I'm looking forward to the buildup as New Horizons gets ever closer to Kuiper Belt Object MU69 and whatever surprises will attend the flyby. But the ongoing operations of the Dawn spacecraft orbiting Ceres equally command the attention. The image below is one of the first images Dawn has returned in more than a year, a stark view of surface features taken on May 16 of this year. The altitude here is 440 kilometers — for scale, the large crater near the horizon is about 35 kilometers wide. The foreground crater is about 120 kilometers from that crater, within a jumbled landscape suggestive of ancient terrain underlying the more recent impact.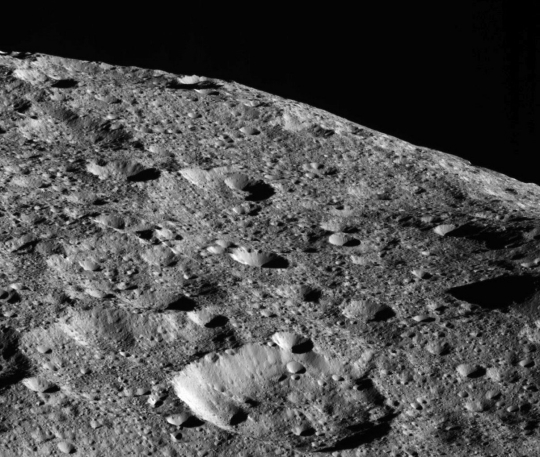 Image: On the way to its lowest-ever and final orbit, NASA's Dawn spacecraft is observing Ceres and returning new compositional data (infrared spectra) and images of the dwarf planet's surface, such as this dramatic image of Ceres' limb. Dawn has returned many limb images of Ceres in the course of its mission. These images offer complementary perspective to the images generally obtained by imaging the surface directly beneath the spacecraft. Credit: NASA/JPL-Caltech/UCLA/MPS/DLR/IDA.
As with Pluto/Charon, so with Ceres — we've named many surface features, and can thus say that the image, a view of terrain at 23 degrees north latitude, 350 degrees east longitude, is in the neighborhood of mountainous terrain that includes Kwanzaa Tholus. A tholus is a type of small mountain — we now have six named tholi and montes, somewhat bigger mountains, in this region of the dwarf world.
Backing out the view in the image below, you can see Kwanzaa Tholus marked at image center, though its gradual rise makes it difficult to pick out. Here we're looking at a 2017 mosaic taken by Dawn in its high-altitude mapping orbit at about 1470 kilometers above the surface.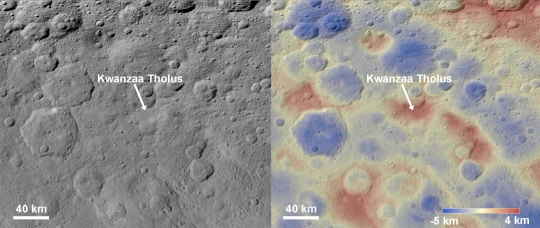 Image: Scientists say Kwanzaa Tholus may have once been as prominent as Ahuna Mons, the tallest and most noticeable mountain on Ceres. Ahuna Mons is likely a cryovolcano, a volcano formed by the gradual accumulation of thick, slowly flowing icy materials. Because ice is not strong enough to preserve an elevated structure for extended periods, cryovolcanoes on Ceres are expected to gradually collapse over tens of millions of years. This means Kwanzaa Tholus and other tholi in that area could be degraded mountains, which also formed from cryovolcanic activity. Credit: NASA/JPL-Caltech/UCLA/MPS/DLR/IDA.
But back to the present, for Dawn is drawing closer to Ceres as it moves into its final orbit, which it will reach in early June. This orbit will take the spacecraft as close as 50 kilometers above the surface, so we can expect the spectacular imagery to continue. It's worth noting how complex this orbital adjustment is, involving examination of more than 45,000 possible trajectories before engineers chose the final plan. Along with the images, Dawn will be collecting gamma ray and neutron spectra (using the GRaND gamma ray and neutron detector instrument) by way of gaining insights into the chemical makeup of Ceres' upper crust.
"The team is eagerly awaiting the detailed composition and high-resolution imaging from the new, up-close examination," said Dawn's Principal Investigator Carol Raymond of NASA's Jet Propulsion Laboratory, Pasadena, California. "These new high-resolution data allow us to test theories formulated from the previous data sets and discover new features of this fascinating dwarf planet."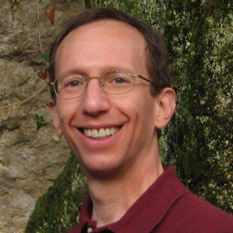 We're now going into what is known as XM07, or extended mission orbit 7, a designation that, as mission director and chief engineer Marc Rayman wryly observes, "illustrates the team's flair for the dramatic." Since XM05 the spacecraft's orbit has been elliptical, for Dawn was not designed to operate at low altitude, and we're dealing with a spacecraft whose reaction wheels have failed, making controlling its orientation an issue. Dawn must fire its small hydrazine-fueled thrusters to control its orientation in space. In his JPL blog, Rayman describes the orbit:
Although the elliptical orbits introduce many new technical challenges for the team, Dawn still takes a spiral route from each orbit to the next, just as it did earlier at Ceres and at Vesta when the orbits were circular. In essence, the ion engine smoothly shrinks the starting ellipse until the new ellipse is the size needed. These trajectories are very complicated to plan and to execute, but with the expert piloting of the experienced team, the maneuvering is going very well.
Image: Mission director and chief engineer Marc Rayman, whose mission updates are indispensable for anyone following Dawn. Both Dawn and New Horizons have done a superb job in keeping mission activities visible to the public. Credit: JPL.
The XM07 ellipse will take Dawn from less than 50 kilometers back out to 4,000 kilometers, with each revolution lasting 27 hours and 13 minutes. Rayman notes that XM07 will place extreme demands on Dawn's photography because of the high speed of the spacecraft this near to the surface and the pointing problems involved in capturing a specific target. For more on this and a full description of XM07 and its consequences, I'll send you to Rayman's blog, which in any case should be on your radar as an informative and witty look deep inside the mission.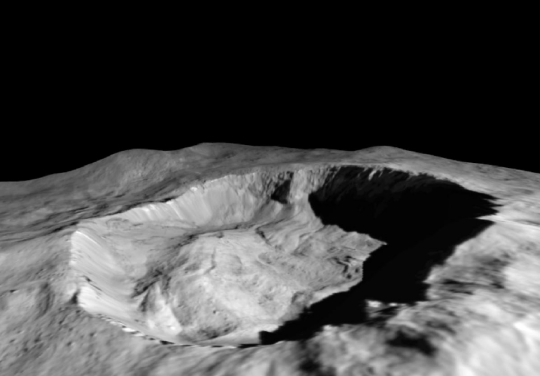 Image: This view of Juling Crater was constructed from pictures Dawn took from XM06 at an altitude of 385 kilometers. The science team has presented other views of this 20-kilometer crater, including last month, when Rayman and company described the discovery that the amount of ice on the shadowed northern wall changed over six months in 2016. Ceres is not a static world. When Dawn dives down lower in June, it will obtain sharper images than this (at other locations). Credit: NASA/JPL-Caltech/UCLA/MPS/DLR/IDA.