This morning's entry resonates with Jim Benford's recent work on objects that are co-orbital with Earth (see A SETI Search of Earth's Co-Orbitals). You'll recall that Benford argues for close study of co-orbitals like Cruithne (3753), a 5-kilometer object with closest approach to Earth of 0.080 AU, and 2010 TK7, which oscillates around the Sun-Earth Lagrangian point L4. A number of other such objects are known in a 1:1 orbital resonance with Earth, but they are seldom studied or even mentioned in the literature.
Calling for SETI observations at radio and optical wavelengths, as well as lighting up the objects with planetary radar, Benford gives a nod to Ronald Bracewell, who speculated that one way for an extraterrestrial intelligence to study a stellar system would be to plant a probe within it that could inform the home civilization about events there. The Earth co-orbitals are made to order for such observation, so why not give them a look with all the tools in our SETI arsenal?
Now we learn that China plans to explore the near-Earth asteroid 2016 HO3, along with a main-belt comet designated 133P. An interesting move — 2016 HO3 is the closest, most stable quasi-satellite of Earth, with a minimum distance of 0.0348 AU. Also known as Kamo?oalewa — a Hawaiian word for an oscillating object in the sky — 2016 HO3 has a minimum orbital intersection distance of 0.0348 AU (5,210,000) km, which is 13.6 times as far away as the Moon, although it seldom comes closer than about 38 lunar distances from us. The Center for Near Earth Object Studies (CNEOS) calculates this one has been in a stable orbit of our planet for about a century and will remain in its orbital pattern for centuries.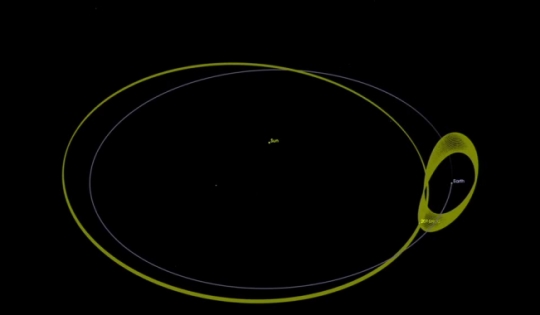 Image: Orbit of 2016 HO3. Credit: James Benford.
According to Liu Jizhong, director of the Lunar Exploration and Space Program Center of the China National Space Administration (CNSA), the current plan is to study 2016 HO3 from space before landing on it to collect samples for return to Earth. Following delivery of the sample return capsule, the probe is to proceed to comet 133P by means of gravity assists at Earth and Mars, in a mission lasting on the order of 10 years.
China is now soliciting proposals for eight types of scientific instruments for the mission among universities, research organizations and private companies both in China and abroad, according to a CNSA news release. Among the instruments needed, Liu says, are a color camera with an intermediate field of view, thermal emission spectrometer, visible and infrared imaging spectrometer, multispectral camera, detection radar, magnetometer, charged and neutral particle analyzer and dust analyzer. Quoting from the news release:
[Liu] said there might be two forms of onboard schemes. One possible scheme is to carry an independent detector on the rocket. After China's main probe enters the orbit, the onboard detector will separate from the rocket and then perform independent tasks. Its mass should not exceed 200 kg. The other possible option is to let China's main probe carry the onboard detector to the near-Earth asteroid or the main-belt comet and then release it. The detector could either perform independent scientific exploration or coordinate with the main probe.

If the onboard detector does not separate with the main probe, its mass should not exceed 20 kg. If the detector separates from the main probe near the asteroid, its mass should be no more than 80 kg. If it separates from the main probe near the comet, its mass should not exceed 20 kg.
The deadline for proposals is August 31, 2019, with those interested asked to contact CNSA.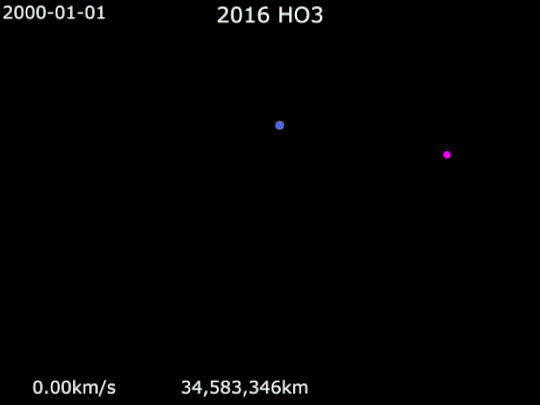 Image: An animation of 2016 HO3's orbit around Earth 2000-2300. Credit: Phoenix7777 – Own work. Data source: HORIZONS System, JPL, NASA. CC BY-SA 4.0.
This will not be China's first experience with an asteroid mission. In December of 2012, its second lunar probe, Chang'e-2, made a close approach and flyby of asteroid 4179 Toutatis after completing its primary mission, approaching to within 3.2 kilometers and returning images. Now we have an ambitious mission to give us a close-up look at an Earth co-orbital, with comet operations to follow. We should learn a lot, for right now even the size of 2016 HO3 is not firmly established, though it is believed to be between 40 and 100 meters, depending on assumptions about its albedo, and we do know that it is a fast rotator.