Any guesses as to what the most powerful event in the universe is? According to a team of NASA scientists working with breakthrough computer modeling techniques, it's the merger of two massive black holes. When the event occurs, gravitational waves muscle out from the collision site at the speed of light. Each such merger generates more energy than all the stars in the universe combined. John Baker at Goddard Space Flight Center is lead author of the paper, which appears in the March 26 issue of Physical Review Letters.
Of course, although the modeling works (via the largest astrophysics calculations ever performed on a NASA supercomputer), one problem is that gravitational waves have yet to be detected directly. But there is reasonable expectation that that will change through observations from the Laser Interferometer Gravitational-Wave Observatory and the joint NASA/ESA Laser Interferometer Space Antenna, a proposed mission that should be able to do the job. Einstein's theory of general relativity predicts that a massive black hole merger would cause spacetime itself to jiggle, in the words of a NASA news release, "…like a bowl of Jell-O."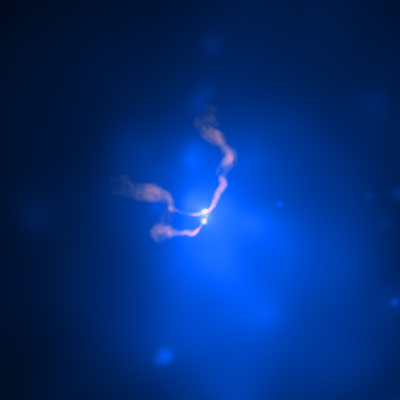 Image: Scientists are watching two supermassive black holes spiral towards each other near the center of a galaxy cluster named Abell 400. Shown in this X-ray/radio composite image are the multi-million degree radio jets emanating from the black holes. Click on image to view large resolution. Credit: X-ray: NASA/CXC/AIfA/D.Hudson & T.Reiprich et al.; Radio: NRAO/VLA/NRL
Also on the black hole front is a new study using Chandra data that shows most of the energy released by matter as it falls toward a supermassive black hole appears in the form of high-energy jets traveling away from the object at speeds near that of light. So powerful are these jets that they could disrupt gas clouds that might otherwise cool into new stars.
"We see enough energy coming out of these black holes to completely stifle star formation," said study co-author Christopher Reynolds of the University of Maryland. "This is an exciting finding because it demonstrates a direct interaction between black holes and galaxy formation, which is a hot topic in astrophysics right now."
Performed by scientists at the University of Maryland, Stanford University, the University of Cambridge and New Mexico State University, the study will appear in an upcoming issue of the Monthly Notices of the Royal Astronomical Society. So much for old, 'boring' black holes, the kind that receive short shrift next to the more crowd-pleasing quasars. This work is a window into galaxy formation in the presence of black holes, another reminder (when we're not talking about dark matter) of how much we have to learn about how the largest objects in the universe take shape.