Exciting news on the antimatter front with the launch of PAMELA, a probe designed to detect antimatter in space. Standing for Payload for Antimatter Matter Exploration and Light-nuclei Astrophysics, the PAMELA spacecraft lifted off from Baikonur on June 15. The mission should be a significant upgrade to previous balloon-borne attempts to survey antimatter inflows in the cosmic rays falling on Earth.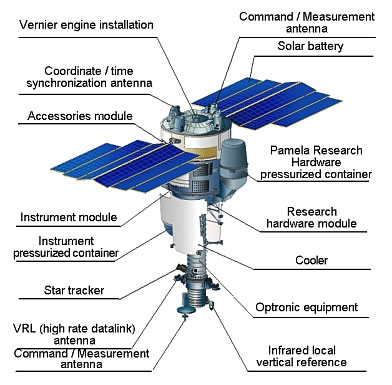 Image: A look at PAMELA, a dedicated mission to study antimatter. Credit: Firenze/INFN.
"It's the first serious, dedicated space experiment to detect cosmic rays," says Felix Aharonian, an astrophysicist from the Max Planck Institute in Heidelberg, Germany, in a news story by Mark Peplow on Nature.com. Which makes PAMELA an intriguing thing indeed, and worth considering in light of other studies of antimatter in space, such as James Bickford's recent work on antimatter collection in the Solar System, and the long-term prospect of antimatter factories working around a gas giant like Jupiter, where naturally-forming amounts of the stuff may be surprisingly abundant and collectable.
But Centauri Dreams also likes the dark matter angle, which goes like this: particle collisions with the type of dark matter candidate called WIMPs (Weakly Interacting Massive Particle) may produce an excess of antimatter with a distinctive signature. That could be one more observational clue to the nature of dark matter, which remains, like dark energy, one of the biggest mysteries in the cosmological catalog.
It may seem unusual to see a particle physics slant to a space mission, but that's the result of that community's involvement with this concept from the start, as opposed to the traditional space science community at NASA and ESA. The mission is, in fact, a collaboration between Russia, Italy, Germany and Sweden, and the betting here is that it will prove unusually productive. In addition to Nature.com, New Scientist is also covering PAMELA's three-year flight in a story by Maggie McKee that is not yet sequestered behind the magazine's firewall.