Here's something to think about, or better, try to visualize on an evening when there's good celestial viewing outside. A typical globular star cluster holds several hundred thousand stars. Out on the periphery of such systems, the stars are relatively widely spaced. But move into the center and you'll find stars packed thousands of times tighter than in our Sun's neighborhood. Imagine the view in such a place — 10,000 stars closer to us than Alpha Centauri turning the night ablaze.
The Hubble Space Telescope paints this picture of conditions in the globular clusters that surround the Milky Way. And as part of these findings, the scientists involved say that such clusters sort out their stars on the basis of mass. You can imagine that in that tightly packed center, close encounters, collisions and mergers between stars would not be uncommon. The result: heavier stars sink toward the cluster's core, while lighter ones move eventually to the periphery, a process never before witnessed but long suspected to occur.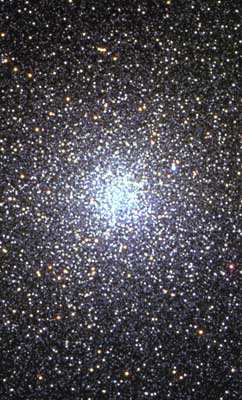 The cluster in question is 47 Tucanae, a dense southern hemisphere object. Astronomers have been able to measure accurate speeds for 15,000 stars at its center, some of them a type called 'blue stragglers' that are thought to be the result of stellar collisions. Twice as massive as normal stars, they're also found to move more slowly than their lighter counterparts. Seven years of measurements went into this work, the largest sample of velocities ever gathered for any globular cluster in our Galaxy.
Image: The 47 Tucanae globular cluster. Credit: Very Large Telescope/European Southern Observatory, R. Kotak and H. Boffin (ESO).
The work, by Georges Meylan (Ecole Polytechnique Federale de Lausanne) and collaborators appears in the September Astrophysical Journal Supplement Series. And it would be helpful to me if any of you know of science fiction settings involving globular clusters. I'm always curious about how writers portray unusual places but am having trouble coming up with many examples here. Talk about an exotic locale!