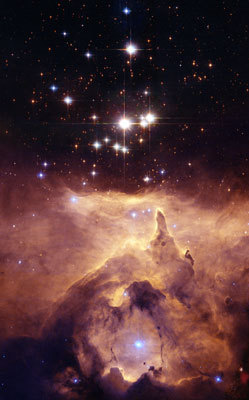 What got me interested in Pismis 24-1 was simply the image. It's one of those spectacular displays we've come to expect from Hubble, obtained using the telescope's Advanced Camera for Surveys. Pismis 24-1 is part of the open cluster Pismis 24, some 8000 light years from Earth in the nebula NGC 6357 in Sagittarius. The cluster is filled with massive stars, but what seizes the attention is the juxtaposition of the cluster itself (the brightest stars in the image) and the gorgeous tapestries of the nebula in which it is embedded.
Pismis 24-1, the brightest star in the cluster, was originally thought to weigh up to 300 solar masses, making it twice the assumed upper mass limit for individual stars. But as the image below shows, it's at least a binary, and ground based observations suggest that it may even be a triple system, with the third star too tightly bound to be resolved. If so, it's a whopper of one, each of the three stars averaging about 70 solar masses. Ahead for these behemoths is a short lifetime of a few million years and a violent end as a supernova before the inevitable collapse into a black hole.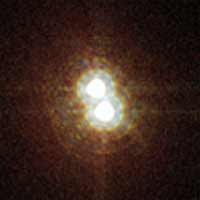 How unusual is this configuration? According to a Hubble news release, there are 18,000 solar-mass stars for every star with 65 solar masses or more. But the numbers are deceptive, since stars like our Sun live 3,000 times longer than their giant counterparts. So the galaxy today holds millions of solar-mass stars for each of its vast cousins. This work, conducted by Jesús Maíz Apellániz (Instituto de Astrofísica de Andalucía) should be useful as we firm up our knowledge of the conditions leading to supernova explosions, those titanic events that seed the universe with heavy elements.
Image credits: Credit: NASA, ESA, and J. Maíz Apellániz (Instituto de Astrofísica de Andalucía, Spain).