The mammoth black hole Sagittarius A* isn't the only interesting thing near the center of our galaxy. The European Space Agency's Integral observatory, working with gamma rays, tracks about eighty high-energy sources in the area. About ten of those closest to the galaxy's center had faded when Integral performed a series of observations last April. A mysterious force? Hardly. "All the sources are variable and it was just by accident or sheer luck that they had turned off during that observation," says Erik Kuulkers of ESA's Integral Science Operations Center.
Fair enough, and useful for astronomers, who were able to use the sudden quiet to look for still fainter sources, and to set limits on the brightness of the x-ray binaries involved. These consist of two stars orbiting each other, one a normal star, the other a collapsed object — a white dwarf, neutron star or black hole. The compressed star pulls off gaseous material from its companion, heating it to a million degrees Centigrade and causing it to emit x-rays and gamma rays. The brightness of the emission seems to depend on the amount of gas transferred.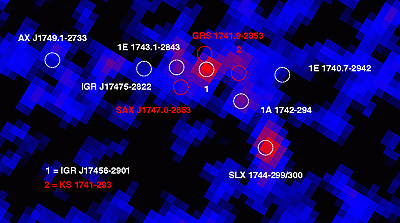 Image: The center of the galaxy, as seen in a mosaic of exposures from Integral. The black hole Sagittarius A* is close to the source marked '1' in the image. Due to the variability these sources possess on all time scales, the region never looks exactly the same. Surprisingly, the sources were 'off' around the time of the observation (including the normally bright well-known black-hole candidate and micro-quasar 1E 1740.7-2942), displaying an unusually 'quiet' galactic centre. Credit: ESA/ISDC.
What's intriguing to Centauri Dreams is that dimming of sources near Sagittarius A* could lead to the detection of faint high-energy radiation associated with its immediate neighborhood, telling us more about this enigmatic object. A paper on recent Integral findings is Kuulkers et al., "The INTEGRAL Galactic bulge monitoring program: the first 1.5 years," accepted by Astronomy & Astrophysics and available online.