With its Wide Field Planetary Camera 2, Near Infrared Camera Multi-Object Spectrograph (NICMOS), and Fine Guidance Sensors still operational, the Hubble Space Telescope isn't exactly blind. But the loss of the Advanced Camera for Surveys would be a serious one, and the bad news is that the next servicing mission, scheduled for mid-2008, probably won't be able to fix the problem. ACS lived out its five year operational life but dazzling vistas like the Ultra Deep Field make us yearn for more.
Hubble's other instruments are still doing good science. Recall that the UDF itself is actually made up of images from the ACS and NICMOS, leading Centauri Dreams to believe that many observational programs will go forward after adjusting to the change in instrumentation. As always, we make a virtue of necessity, a phrase first recorded by Chaucer that resonates even now in the realm of deep space exploration.
Meanwhile, we receive more positive news from the testing of the James Webb Space Telescope's backplane (its 'spine'), which supports the mirrors of the telescope and has been pronounced fit by project engineers. A recent freezing test took place at Marshall Space Flight Center in Huntsville, checking down to the nanometer level to ensure that the backplane will hold steady during space observations. Testing down to 30 degrees Kelvin (-405 degrees Fahrenheit) has already taken place, a step toward shaking out all the telescope's key technologies.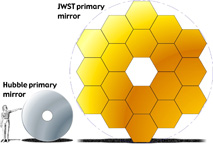 A few points of comparison between JWST and Hubble: The JWST will do most of its work at infrared wavelengths. Hubble can do some infrared work as well, but its primary mission is at optical and ultraviolet wavelengths. As to light gathering surface, JWST really is Hubble's successor. Its 6.6 meter primary mirror significantly upgrades Hubble's 2.4 meter one; in fact, JWST boasts about seven times the collecting area. And as compared to the Spitzer Space Telescope, which also works in the infrared, JWST offers much higher resolution. Finally, Hubble is in a near-Earth orbit, whereas JWST will operate 1.5 million miles out at the L2 point, using its huge solar shield to block sunlight and stay cool.
Image: Hubble and JWST's primary mirrors compared. Credit: NASA/MSFC.