With all the press being given to the Large Hadron Collider under construction at CERN, it's interesting to see that the black hole believed to exist at the Milky Way's center — the object called Sagittarius A* — seems to be going it one better. The LHC will be able to accelerate protons to seven trillion electronvolts. But Sgr A* evidently slings nearby particles even more energetically, reaching the 100 trillion electrovolt level. Not bad for an object considered to be relatively inactive compared to black holes in other galaxies, and one explanation for the hugely energetic gamma rays streaming from that part of our galaxy.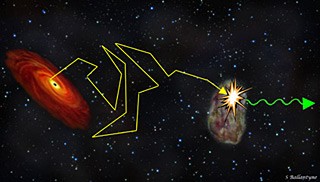 The study in question, reported in Astrophysical Journal Letters, sees the black hole as a cosmic particle accelerator, a region where powerful magnetic fields push particles to extraordinary energies. At play is the interstellar gas extending roughly ten light years from the black hole. Fuvio Melia (University of Arizona) calls Sgr A* "…one of the most energetic particle accelerators in the galaxy, but" — and here's the mechanism involved — "it does this by proxy, by cajoling the magnetized plasma haplessly trapped within its clutches into slinging protons to unearthly speeds."
Image: An illustration of the idea that the black hole at the center of the Milky Way is like an extremely powerful particle accelerator, revving up protons in the surrounding magnetic plasma and slinging them into lower-energy protons with such energy that high-energy gamma rays result from the collision. The yellow line depicts a high-energy proton flung into a lower-energy proton in the hydrogen gas cloud. The green arrow represents the high-energy gamma ray that results from the proton collision. (Credit: Sarah Ballantyne).
High-energy protons, having been accelerated by their brush with the supermassive object at galactic center, then collide with protons from low-energy hydrogen, creating pions that decay into gamma rays. So here's an explanation for some of the universe's most exotic objects. Melia again:
"Ironically, even though our galaxy's central black hole does not itself abundantly eject hyper-relativistic plasma into the surrounding medium, this discovery may indirectly explain how the most powerful black holes in the universe, including quasars, produce their enormous jets extending over intergalactic proportions. The same particle slinging almost certainly occurs in all black-hole systems, though with much greater power earlier in the universe."
The paper is Ballantyne et al., "A Possible Link between the Galactic Center HESS Source and Sagittarius A*," in Astrophysical Journal Letters 657 (March 1 2007), L13-L16. A preprint is available.