A research team using data from the Chandra x-ray observatory has examined supermassive black hole activity in galaxy clusters of different ages. Also known as active galactic nuclei (AGN), the black holes are the result of rapid growth in gas-rich environments in the early universe, explaining why they are more common in young clusters than in older ones. Comparing the fraction of AGN in clusters at large distance (when the universe was 58 percent of its current age) to relatively nearby clusters, the team found 20 times more AGN in the more distant sample.
Paul Martini (Ohio State University) sees this as confirmation of earlier theory:
"It's been predicted that there would be fast-track black holes in clusters, but we never had good evidence until now. This can help solve a couple of mysteries about galaxy clusters."
Mysteries such as why the number of blue, star-forming galaxies seems to diminish as we move to nearer, older galactic clusters. The process would seem to involve supermassive black holes expelling gas from their host galaxy through powerful eruptions, stifling the star formation process so that only older, redder stars are left. That sequence is thought to consume about a billion years. Says Jason Eastman, also of OSU:
"In a few nearby clusters we've seen evidence for huge eruptions generated by supermassive black holes. But this is sedate compared to what might be going on in younger clusters."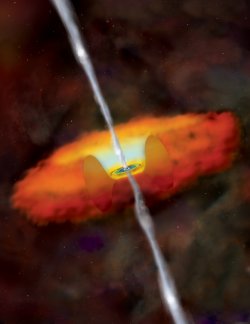 Keep going back in time and it appears that AGN may be still more common around ten billion years ago, when most of these clusters were forming. As we learn more about the enigmatic black holes at the center of some galaxies, we're beginning to understand how influential they must be in shaping the development of the galaxy clusters in which they reside. Supermassive black holes can be found outside clusters as well (more commonly in the early universe), but they do not appear nearly as frequently as in the cluster environment.
Image: An artist's conception of a rapidly growing black hole, otherwise known as an active galactic nucleus (AGN), in the center of a galaxy. A disk of hot gas is flowing into a central black hole, and is surrounded by a large doughnut or torus of cooler gas and dust. Earlier in the history of the universe, galaxies in clusters of galaxies are thought to have contained a lot more gas than galaxies in clusters do today. This abundance of fuel should mean that the piranha-like black holes were able to thrive in young, distant clusters by growing much faster than their counterparts in nearby clusters. Chandra observations have confirmed this by showing, for the first time, that there are more AGN in younger, more distant galaxy clusters. This illustration also shows jets of high energy particles (white) that are propelled away from the vicinity of the black hole by intense electric and magnetic fields. These jets can heat the gas in galaxy clusters and significantly affect their structure. Credit: NASA/CXC/M.Weiss.
The paper is Eastman et al., "First Measurement of a Rapid Increase in the AGN Fraction in High-Redshift Clusters of Galaxies," Astrophysical Journal Vol. 664 (July 20, 2007), pp. L9-L12 (abstract).