I don't want today to pass without noting that it is the thirtieth anniversary of the launch of Voyager 2. Both Voyagers remain healthy, continuing studies of the solar wind, magnetic fields and energetic particles with their five functioning science instruments. As this JPL news release notes, the Voyagers run on less than 300 watts of power, which they tap from radioisotope thermoelectric generators. At 15.5 billion kilometers (Voyager 1) and 12.5 billion (Voyager 2), the vehicles are the farthest human-made objects, unable to use the power of distant Sol.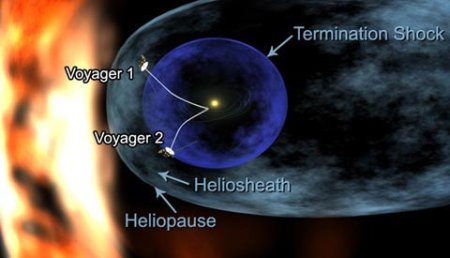 Image: Artist concept of the two Voyager spacecraft as they approach interstellar space. Image credit: NASA/JPL.
So our first mission into nearby interstellar space continues to go quite well, with both spacecraft reporting home despite one-way radio travel times of fourteen and twelve hours respectively. Voyager 1 seems to have encountered the heliosheath — where the solar wind slows as it encounters the thin gas between the stars — in late 2004. Voyager 2's likely encounter with the heliosheath, which may begin later this year, should provide further information about this distant area. Larry Klaes published a nice overview of Voyager's famous golden records today.