A long-time old movie buff, I am delighted with the choice of name for a recently discovered neutron star that may be the closest such object to Earth. It's being called Calvera, after the bandit played so brilliantly by Eli Wallach in the 1960 western The Magnificent Seven. In astronomical terms, the 'Magnificent Seven' are the seven isolated neutron stars — neutron stars with no associated binary companion, supernova remnant or radio pulsations — known until the discovery of Calvera, which brings the number to eight.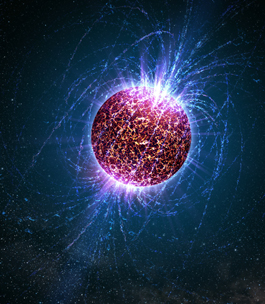 Co-discoverer Derek Fox (Penn State) calls the choice of names "…a bit of an inside joke on our part." And indeed, Calvera started life with a far less interesting name. The German-American ROSAT satellite (named after x-ray discoverer Wilhelm Röntgen) had compiled 18,000 x-ray sources. Comparing these with catalogs of visible, infrared and radio objects, Robert Rutledge (McGill University) discovered that the source known as 1RXS J141256.0+792204 had no known counterpart at any other wavelength. Subsequent observations with NASA's Swift satellite, the Gemini North instrument in Hawaii and the Chandra X-Ray Observatory were able to confirm the neutron star explanation.
Image: Artist's illustration of an "isolated neutron star" — a neutron star that does not have an associated supernova remnant, binary companion, or radio pulsations. Credit: Casey Reed, courtesy of Penn State.
Calvera looks to be a promising object indeed. The current working assumption is that it is within 1000 light years and perhaps as close as 250, making it possibly the closest known neutron star. The discovery team believe Calvera to be a radio pulsar, in which case it could be useful. In the passage below, the team discusses Calvera's classification, relating it to millisecond pulsars (MSPs) with a rotational period between one and ten milliseconds (internal references deleted for brevity):
The only class of objects consistent with the demonstrated properties of Calvera are the radio pulsars; in particular, pulsars analogous to the MSPs observed in the globular cluster 47 Tuc. We therefore conclude that Calvera is most likely a radio pulsar. This could be confirmed by detection of radio pulsations from this source.

If Calvera is a new (perhaps fast) radio pulsar, it would be an observationally useful object. It exhibits an X-ray flux equal to the X-ray-brightest and second closest millisecond radio pulsar, PSR J0437−4715. There are only 5 known radio pulsars within d <260 pc, and only one in the northern hemisphere. If Calvera indeed turns out to be an MSP, it would be the third closest MSP in the sky (after PSR J0437-4715 at d = 160 pc and PSR J2124-3358 and d = 250 pc) and potentially the closest MSP at d = 80 pc. It would be the closest MSP in the northern hemisphere (followed by PSR J0030+0451, d=300 pc) making it a potentially useful target both for a pulsar timing array and for targeted search with the Laser Interferometric Gravitational Wave Observatory (LIGO).
Many more isolated neutron stars may be found to exist as we continue to identify which ROSAT sources are missing optical counterparts. Longer observations with Chandra, planned by the discovery team, should show whether the source pulsates in X-rays (radio pulsations have yet to be identified). The team's long-term ROSAT survey is ongoing, so we expect to hear more about Calvera-like objects. The paper is Rutledge, "Discovery of an Isolated Compact Object at High Galactic Latitude," to be published in The Astrophysical Journal (preprint available).