Speaking of absorbing views from a planetary surface, as we've been doing recently when discussing the Magellanic Clouds and what an observer there might see of the Milky Way, consider a much darker scenario. A galaxy called ESO 137-001 is in headlong flight toward the center of the galactic cluster Abell 3627. It is leaving in its wake a trail of gas that extends for more than 200,000 light years and is forming stars.
Bear in mind that the Milky Way itself is 100,000 light years across and you'll get an idea of the magnitude of this tail, which Michigan State's Ming Sun calls one of the longest of its kind his team has ever seen. Millions of stars have now come to life in the tail, apparently forming within the last ten million years. Adding to optical studies are Chandra X-ray data that show additional regions thought to be star-bearing.
Give these stars a few billion years to produce planets bearing intelligent life and you have a civilization coming into its own with skies that would be, by our standards, remarkably dark. The day will come when the gas that has produced the orphan stars is completely stripped from its parent galaxy, stopping further star formation, and the stragglers will be left out on a very long limb indeed.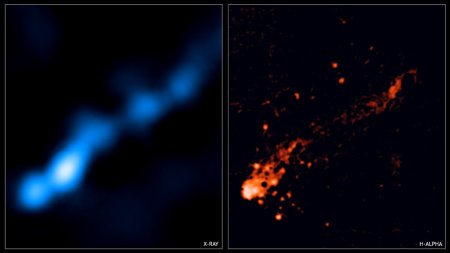 Image: The comet-like tail behind the galaxy ESO 137-001 is clearly shown in this Chandra X-ray Observatory image. The 70,000 light year long tail was created as gas was stripped from ESO 137-001 while it plunges toward the center of Abell 3627, a giant cluster of galaxies. Cool gas from the galaxy – only seen in optical images – is mixed in with hot gas from the cluster as seen in X-rays. Credit: X-ray: NASA/CXC/MSU/M. Sun et al.; Optical: SOAR (MSU/NOAO/UNC/CNPq-Brazil)/M.Sun et al.
Thus we look at the inverse of the famous Isaac Asimov story 'Nightfall.' The good doctor postulated a planet in a system with six suns, keeping the surface always illuminated save for one day every 2049 years. Astounding's John Campbell proposed the story to Asimov by citing a Ralph Waldo Emerson quote: "If the stars should appear one night in a thousand years, how would men believe and adore and preserve for many generations the remembrance of the city of God!" Asimov took the idea and ran, producing one of science fiction's classic works.
I'm not aware of a fictional equivalent to the situation postulated by the straggler stars of ESO 137-001, but there may be more orphans than we think. If, as some believe, galactic tails were not uncommon billions of years ago in an era of richer star-forming materials, then there may be hosts of planets experiencing the deep darkness of intergalactic space. We'll know more about that idea when the paper on this work appears in The Astrophysical Journal, an event slated for December.