An odd radio burst that seems to signal a previously undiscovered astrophysical phenomenon is now on the scene. Culled out of archival data gathered from the Parkes radio telescope in Australia, the burst may signal something exotic indeed, the last stages of the evaporation of a black hole. Another candidate: A collision between two neutron stars.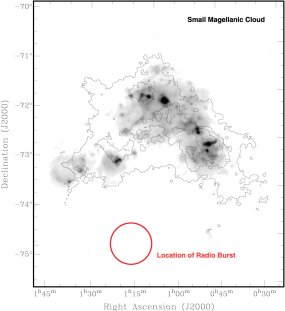 And while the data in question come from a survey that included 480 hours of observation of the Magellanic Clouds, some 200,000 light years from Earth, the phenomenon they've uncovered is far more distant. Drawing the attention of astronomers was the fact that no radio burst yet found shows the same characteristics. Despite its strength, the signal lasted less than five milliseconds. Dispersion effects caused by its passage through ionized gas in deep space caused higher frequencies to arrive at the telescope before lower frequencies.
Image: Visible-light (negative greyscale) and radio (contours) image of Small Magellanic Cloud and area where burst originated. CREDIT: Lorimer et al., NRAO/AUI/NSF.
Dispersion, it turns out, is a useful indicator, in this case helping to determine the distance of the event from Earth, about three billion light years. Maura McLaughlin (West Virginia University and NRAO) notes another potential benefit of unlocking the signal's secret:
"We're actively looking for more of these powerful, short bursts, in other archival pulsar surveys, and hope to resolve the mystery of their origin. In addition, if we can associate these events with galaxies of known distance, the radio dispersion we measure can be used as a powerful new way to determine the amount of material in intergalactic space."
It's an intriguing find, enough so that Matthew Bailes (Swinburne University, Australia) could say, "This burst represents an entirely new astronomical phenomenon." Needless to say, follow-up studies are called for. They'll involve a search for short, powerful bursts like this one in other archival survey data. Beyond that, the next generation of radio telescopes, more sensitive than today's equipment, should be able to detect similar phenomena.
The paper is Lorimer, Bailes et al., "A Bright Millisecond Radio Burst of Extragalactic Origin," ScienceXpress September 27, 2007 (abstract).