The recent news about an unusual supernova in Hercules some 300 million light years away has a wider significance than might first appear. Supernovae are important for more than their role in seeding the cosmos with heavy metals forged in their stellar furnaces. They're also widely used cosmological markers. Type Ia supernovae, thought to be well understood, typically occur in a band of brightness that makes them 'standard candles,' useful in calculating cosmic distances.
It was work on Type Ia supernovae, in fact, that led to the discovery of the universe's accelerating expansion. And what the latest find implies is that, contrary to earlier thinking, this kind of supernova may be more varied than previously thought. The new find — supernova 2006gz — appears to result from the collision of two white dwarfs that had been in orbit around each other. The evidence: a strong spectral signature of unburned carbon and clear signs of compressed layers of silicon.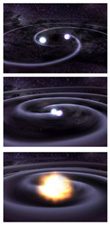 Both spectral signatures show up in computer models of merging white dwarfs, but consider what a jump this is from the standard Type Ia scenario. In it, a white dwarf draws gas from a companion star until it undergoes catastrophic fusion and explodes. All of which is different from Type II supernovae, which are massive stars that undergo core collapse before exploding. Of the two, Type Ia are the most common, their spectra usually distinctive in lacking hydrogen.
Image: This artist's conception shows two white dwarf stars spiraling in toward each other until they collide. A collision like this is believed to have spawned supernova 2006gz. Credit: NASA/Dana Berry, Sky Works Digital.
What SN 2006gz is telling us is that a double white dwarf explosion has to be factored into the analysis when looking at Type Ia events. Malcolm Hicken, a Harvard graduate student and first author of the paper on this work, notes the implication:
"Supernova 2006gz stands out from normal Type Ia objects and wouldn't be included in cosmology studies. But we have to be careful not to mistake a double white dwarf explosion for a single white dwarf blast. SN 2006gz was easy to recognize, but there may be less clear-cut cases."
Indeed. And if we do mistake a white dwarf merger for a standard Type Ia supernova, we may be adding an error into any calculations involving its use as a standard candle. One suspects such events are relatively rare, but these findings are useful in adding another factor to watch for as we calibrate our measurements of what is happening at cosmological distances. The paper is Hicken et al., "The Luminous and Carbon-rich Supernova 2006gz: A Double Degenerate Merger?" Astrophysical Journal 669 (November 1, 2007), pp. L17-L20 (abstract).