By Larry Klaes
Larry Klaes' look at the Allen Telescope Array reminds us of the power of philanthropy at getting serious projects funded. It's a topic we'll be re-visiting as the Tau Zero Foundation comes online early in the coming year. I'm reminded also of the One Laptop Per Child project, which is seeing private donations for these educational tools supplanting government shortfalls in some developing countries. Properly targeted, the philanthropic dollar is a powerful thing, and think of the results if the ATA finds a genuine signal!

Cornell astronomer and science popularizer Carl Sagan left quite a legacy in a number of science fields, including and especially those which were considered to be somewhat fringe at one time.
One prime example of his support of a science field that was not universally accepted in earlier eras was SETI, the Search for Extraterrestrial Intelligence. At a time when many astronomers did not seriously consider the possibility of other beings existing beyond Earth and relegated aliens to UFO and science fiction tales, Sagan promoted and participated in some of the first scientific searches and contact efforts for extraterrestrial life.
One of the latest results of Sagan's efforts in SETI was recently dedicated in a remote region of northern California. Called the Allen Telescope Array (ATA) after its most prominent benefactor, Microsoft co-founder Paul Allen, the installation can look to Sagan as an inspiration. Seattle billionaire Allen cited a conversation with the Cornell astronomer in 1995 as the catalyst that prompted him to donate $25 million to construct the most advanced SETI project yet built.

SETI programs have traditionally been sporadic both in terms of funding and their search parameters, going back to 1960 when former Cornell astronomer Frank Drake began the first modern effort, named Ozma, using a large radio telescope to monitor just two nearby stars — Tau Ceti and Epsilon Eridani — over a four-month period. By the early 1990s, SETI programs in the United States were in jeopardy when NASA pulled its support for the effort. Fortunately for the field, private efforts such as the SETI Institute and the SETI League picked up where the government left off, though they too often suffered from limited telescope resources.
First conceived by Frank Drake, the ATA is a revolution for both SETI and radio astronomy in general. Dedicated both to SETI projects and galactic astronomy, the array offers a sense of focus. The SETI Institute will no longer have to vie for time with other projects using various large radio telescopes around the world. The 42 twenty-foot wide dishes currently in operation will be expanded to 350 in the coming years. Not only will the ATA do wonders for astronomy using relatively inexpensive off-the-shelf technology, but it will also serve as a test bed for much larger radio astronomy projects utilizing collections of many telescopes functioning as a single unit, such as the Square Kilometer Array (SKA), planned for construction in the next decade.
Other notable features about the ATA include its ability to scan large areas of the sky rapidly. The array will be able to simultaneously scan numerous star systems and monitor over forty million radio channels. The modern technology of the ATA also allows it to filter out effectively the many sources of artificial noise from human civilization, a major bane to radio SETI, while searching for the alien ones.
The first SETI effort for the ATA will be to scan the center of our Milky Way galaxy, where billions of stars reside, for several months. The cluster of radio telescopes will then begin a more detailed assignment, examining approximately one million nearby star systems. This will be a thousand fold increase over all previous SETI efforts going back to Ozma. This number does not include the few brief explorations of some neighboring galaxies, which hold hundreds of billions of suns. Several such studies were conducted by Sagan and Drake themselves.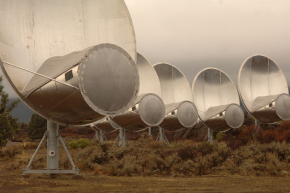 The previous effort by the SETI Institute, called Project Phoenix, looked at fewer than 800 star systems for only a few weeks each year from 1995 to 2004, borrowing telescope time first from the Parkes Radio Observatory in Australia and then the Cornell-run Arecibo Radio Observatory on the island of Puerto Rico. Living in a galaxy with 400 billion stars, it is easy to see why SETI researchers are excited about the ATA.
Images: Views of the Allen Telescope Array. Credit: ATA.
Some scientists doubt that even the capabilities of the ATA will be able to detect alien civilizations in the galaxy. Aside from those who say the Milky Way is either barren of any life besides that on Earth or that few aliens are more developed than bacteria, some question whether advanced ETI would use the relatively primitive method of radio to transmit messages into deep space.
One alternative to interstellar communications is through the optical portion of the electromagnetic spectrum, specifically with lasers. A powerful laser beam could contain far more information than a radio message, including video images, which may certainly facilitate understanding between two very different cultures. Others advocate sending physical messages between the stars, something like the metal plaques and records on the Pioneer and Voyager space probes, respectively.
Some scientists declare that we are looking for the 'wrong' kind of aliens in the wrong kind of places, namely biological beings not too dissimilar from humans living on Earthlike planets circling yellow dwarf stars. Milan Ćirković and Robert Bradbury contend that beings that survive their cultural adolescence will become what Hugo de Garis calls artilects, vast machine intelligences far beyond our level of intellect. These artilects may prefer to exist in the dark outer regions of the Milky Way, huddled around suns inside massive Dyson Shells, where the much colder temperatures allow them to function better. Such highly advanced minds housed in such truly alien 'bodies' may help to explain why we have yet to detect any ETI or why no obvious messages have come our way.
Whatever the situation may be or the types of ETI that may exist in the Universe, one thing is certain: If we do not search for them, we will likely never find them, or they us. The Allen Telescope Array is a major new step in improving our chances to find what is or is not out there. What we learn from this exploration into the unknown will have a profound effect on our species and society.
For more information on the ATA, check out the ATA section on the SETI Institute Web site.