Lately I've been thinking about cosmic killers, the kind of extinction events that could destroy an entire ecosphere and any civilization living within it. It's a natural enough thought given our speculations about life elsewhere in the universe. Just how hostile a place is the Milky Way? We're beginning to learn that planets are abundant around stars in our region of the disk, with the encouraging expectation that habitats for evolving lifeforms must be widespread. But maybe there are natural caps other than technological suicide that could end a civilization's dreams.
You can't help pondering this when you run into the recent news about a long duration gamma-ray burst (GRB) that took astronomers by surprise. GRBs are normally thought to flag the death of a massive star, but in this case the burst seems to come out of nowhere. What caused the event in a region of space where the nearest galaxy is 88,000 light years away? And no question about GRB 070125's credentials. It was detected and corroborated last January and its location readily pinpointed in Gemini.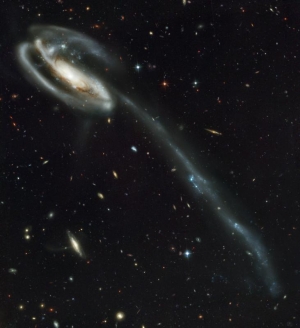 So did a massive star find its way out into the depths of intergalactic space? If so, it was an unusual one, for the kind of stars we're talking about lead short lives and by necessity remain close to the clouds of gas and dust inside galaxies that gave them birth. Research now turns to the question of whether the star in question could have formed in the 'tidal tail' between two interacting galaxies. Such tails can be extraordinarily faint. Hubble may be able to tell us whether or not this is true, in which case the burst will have shown us a star-forming region we didn't know was there.
Image: A recent galaxy collision produced the long tail in the Tadpole Galaxy. If GRB 070125 exploded in a similar tail, only Hubble could detect the tail. Credit: NASA, H. Ford, et al.
Of course, where gamma-ray bursts are concerned, the farther away, the better. But there are other interesting sources of trouble besides GRBs. Consider 3C321. The two galaxies orbiting each other that make up this celestial object made enough of a splash that my local newspaper picked up the story, an unusual addition for a normally astronomy-free venue. Both these galaxies, according to Chandra X-ray Observatory data, contain supermassive black holes, but the larger galaxy shows a jet that seems to be pointed right at the smaller. That could make things interesting indeed at the receiving end, as Dan Evans (Harvard-Smithsonian Center for Astrophysics) is quick to point out:
"We've seen many jets produced by black holes, but this is the first time we've seen one punch into another galaxy like we're seeing here. This jet could be causing all sorts of problems for the smaller galaxy it is pummeling."
Indeed. High-energy X-rays and gamma rays aren't conducive to long lifetimes, with potentially lethal effects for the atmospheres of planets that happen to be in the way. The two galaxies are separated by a scant 20,000 light years, so the effect is about the same as if a jet from the Milky Way's core illuminated our position in the Orion Arm. Which brings to mind disaster scenarios like that found in Richard Cowper's wonderful Twilight of Briareus, where a future Earth is transformed by a supernova (not GRB) explosion, with results that awaken in humans a strange, latent potential (regulars here know of my admiration for Cowper).
That's quite a benign result compared to what might happen with a full-bore hit from a nearby GRB or a major jet. Fortunately for life's chances, alignments like that seen in 3C321 seem vanishingly rare. As for that unusual GRB in Gemini, the evidence says GRB 070125 took place some 9.4 billion years ago. We know all too little else. "Many Swift discoveries have left astronomers scratching their heads in befuddlement," says Swift lead scientist Neil Gehrels (NASA GSFC). "But this discovery of a long GRB with no host galaxy is one of the most perplexing of all."
More surprises are likely. Last December Nature reported on GRBs in a series of papers, focusing particularly on the interesting GRB 060614. This was an extremely long (102 seconds) burst from 1.6 billion light years away in the constellation Indus. No trace of a supernova could be found that would explain it. Another burst, GRB 060505, likewise left no supernova remnant. All of which leaves this observer thinking GRBs have much to teach us, particularly in terms of understanding the celestial events that give them birth. As for extinction events, GRBs do, at least, seem to be tightly beamed, good news for all but the unlucky.