By Larry Klaes
One response to Fermi's famous 'Where are they?' question is to speculate on factors that might destroy incipient life forms. The recent gamma ray burst seen halfway across the universe reminds us of the powers that can be unleashed within a galaxy. Now Tau Zero journalist Larry Klaes goes to work on two galaxies 1.4 billion light years from Earth whose destinies are in some ways intertwined. Are we witnessing the possible annihilation of civilizations?
Being tiny creatures who have spent our existence on and around a rather insignificant ball of rock, it is often quite difficult for humans to imagine the infinitely vaster Universe we live in. As the late author Douglas Adams once said in his famous series, The Hitchhiker's Guide to the Galaxy: "Space…is big. Really big. You just won't believe how vastly hugely mindboggingly big it is. I mean you may think it's a long way down the road to the chemist [pharmacy], but that's just peanuts to space."
Not only are the distance and size of things in the Cosmos "mindboggingly big," but their age and the power they wield also make human concepts of power pale in comparison.
Take the two largest galaxies in a system known as 3C 321. The two galaxies in question are located 1.4 billion light years from Earth. This means that the light from the many stars which make up these galaxies took 1.4 billion years to cross the darkness of intergalactic space. When the starlight striking our eyes now left 3C 321 all those ages ago, the most advanced creatures on our planet were little more than complex cells known as eukaryotes. As for the distance involved, our most far-reaching space probes are just a few billion miles from Earth – barely out of our Solar System, to say nothing of the nearest star or galaxy.
Recently, a combined effort of several Earth-orbiting astronomical satellites and ground-based radio telescopes imaged the galaxy pair of 3C 321 at multiple wavelengths on the electromagnetic spectrum. The scientists discovered that the two star islands were slowly moving towards each other, which is not an uncommon occurrence in the Universe: Our Milky Way galaxy and the Andromeda galaxy will collide just a few billion years from now.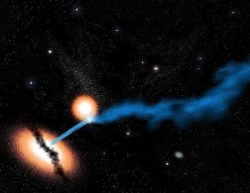 They also were found to have supermassive black holes at their centers. Most galaxies, including the Milky Way, have such incredible objects. Black holes are what happen to a star more massive than our Sun when it collapses upon itself in old age. The star literally crushes itself into a point called a singularity, from which not even light is fast or strong enough to escape.
Image: This artist's impression of 3C321 shows the main galaxy and the companion galaxy. A jet of particles generated by a supermassive black hole at the center of the main galaxy is striking the companion galaxy. The jet is disrupted and deflected by this impact. Credit: NASA/CXC/M. Weiss.
Black holes at the center of many galaxies can grow to be millions and billions of times more massive than Earth's yellow dwarf star. They pull in so much of the dust, gas, and even suns surrounding them that they actually end up ejecting some of their captured material back into space in relatively tight beams of radiation, matter, and energy known as jets. Anything in the path of such particle beams, which move at nearly the speed of light (186,000 miles each second), will be in serious trouble.
The larger of the two major galaxies in 3C 321 has such an active galactic nucleus, as astronomers call it. At least one million years ago, this galaxy's jet began shooting out of the galactic core and across 20,000 light years of deep space, where it struck the edge of its neighbor smaller galaxy. A continual spray of radiation 1,000 light years wide, especially one with as many high X-rays and gamma rays as this one has, would spell doom for life on the surface of any planets in that galaxy.
"This jet could be causing all sorts of problems for the smaller galaxy it is pummeling," said Daniel A. Evans, an astronomer from the Harvard-Smithsonian Center for Astrophysics in Cambridge, MA, and the lead author on a paper about this amazing event.
The media have dubbed the larger member of 3C 321 the "Death Star Galaxy", after the moon-sized battle station of the Galactic Empire in the Star Wars series that had the capability of destroying an entire planet with its powerful energy beam. However, even the power of that fictional war machine is no match for what is happening in reality far across the Universe. Perhaps fortunately for existing life everywhere, only one percent of the galaxies known to have active galactic nuclei emit particle streams and 3C 321 is the first known case of a galactic jet actually impacting with another galaxy.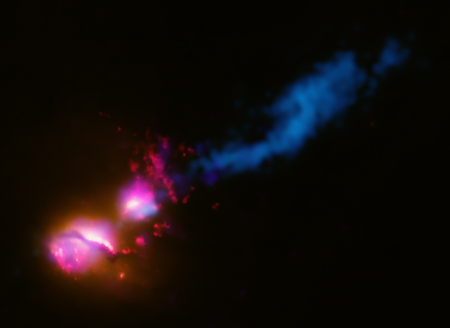 Image: This composite image shows the jet from a black hole at the center of a galaxy striking the edge of another galaxy, the first time such an interaction has been found. In the image, data from several wavelengths have been combined. X-rays from Chandra (colored purple), optical and ultraviolet (UV) data from Hubble (red and orange), and radio emission from the Very Large Array (VLA) and MERLIN (blue) show how the jet from the main galaxy on the lower left is striking its companion galaxy to the upper right. The jet impacts the companion galaxy at its edge and is then disrupted and deflected, much like how a stream of water from a hose will splay out after hitting a wall at an angle. Credit: X-ray: NASA/CXC/CfA/D.Evans et al.; Optical/UV: NASA/STScI; Radio: NSF/VLA/CfA/D.Evans et al., STFC/JBO/MERLIN.
On the official blog of the Chandra X-Ray Observatory, one of the satellites that observed 3C 321, Evans resisted the urge to follow the crowd in naming the active galaxy after the Death Star. Noting that he was not even born when the first Star Wars film was released in 1977, Evans preferred "…a very simple, terrestrial analog, and that's mainly putting your hands into a fire hose."
Although the particle jet could strip away the ozone layer of any Earth-like planet in that pummeled galaxy in a mere matter of months, Neil deGrasse Tyson, an astrophysicist at the American Museum of Natural History in New York City, told BBC News that "…subterranean life is…immune to this kind of violence in the Universe." The jet in 3C 321 may even bring about new life in the smaller galaxy by compressing galactic gas into new stars which in turn would form planets.
"Jets can be highly disruptive…but [create] stellar nurseries," said Tyson. "It's a fascinating sort of duality about how these high-energy phenomena influence the environments in which they're embedded."
Whatever the fate of the galaxies of 3C 321, it must be noted that the event has already taken place nearly one and a half billion years ago. Whether we ever learn what happened "long ago, in a galaxy far, far away" or not, one cannot fail to be impressed – and perhaps a bit frightened – with the immensities of our Cosmos.