The death of a star fifty times more massive than our Sun may well result in a hypernova, far more powerful than a supernova and, if you're in line with the concentrated beam of its energies, far more luminous. Such events are hypothesized to be associated with long-duration gamma ray bursts (GRBs). We've just had a spectacular example of an apparent hypernova/GRB combination in the form of GRB 080319B, the record-holder for brightest naked eye object ever seen from Earth.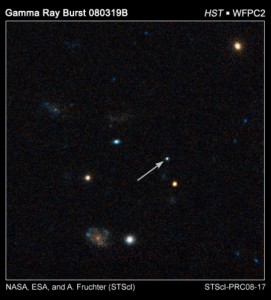 The image shows the fading light of this event as seen by the Hubble spacecraft on April 7. Bear in mind that the flash of gamma rays and other radiation was detected on March 19, at which point the GRB could be viewed at 5th magnitude in the constellation Boötes. The kicker is that a full three weeks after the explosion, the light of the galaxy in which this event originated is still drowned out by the light of the GRB.
Image: The gamma ray burst GRB 080319B leaves us with an optical remnant and a puzzle. What forces drive an explosion of this size, still glowing halfway across the visible universe? Credit: NASA, ESA, N. Tanvir (University of Leicester), A. Fruchter (STScI), A. Levan (University of Warwick), and E. Rol (University of Leicester).
Could such an explosion happen right here in our own galaxy, possibly threatening life on Earth? Probably not, according to Andrew Fruchter (Space Telescope Science Institute) and colleagues. Back in 2006 Fruchter's team published work in Nature studying the environment of 42 long-duration bursts and 16 supernovae with Hubble. They were able to show that most long-duration GRBs occurred in small, irregular galaxies of the kind usually deficient in higher elements. Gamma ray bursts like this are therefore unlikely to occur in galaxies like the Milky Way. Fruchter noted the significance of the find:
"The discovery that long-duration gamma-ray bursts lie in the brightest regions of their host galaxies suggests that they come from the most massive stars – 20 or more times as massive as our Sun. Their occurrence in small irregulars implies that only stars that lack heavy chemical elements tend to produce long-duration GRBs."
The implication is that long-duration events like GRB 080319B happened more often long ago, when galaxies were largely lacking in such elements. An accompanying theory is that a massive star rich in heavy elements loses too much material through its own stellar wind to house the mass needed to trigger a long-duration burst. The collapse of such a star might lead to a neutron star rather than a black hole, with no accompanying jet. So our own galaxy is unlikely to see an explosion like this one in the future, but we still have much to learn about the factors at work in keeping this particular afterglow so bright.
The 2006 paper is Fruchter et al., "Long gamma-ray bursts and core-collapse supernovae have different environments," Nature Vol. 441 (2006), pp. 463-468 (available online).