Looking at the central black holes in galaxies other than our own has forced a question: What's going at Milky Way galactic central? We know there is a black hole there, and a big one, weighing in at about four million solar masses. But the Milky Way's black hole, called Sagittarius A* (pronounced 'A-star') seems quiet compared to what we see in other galaxies, emitting but a trace of the radiation they are pushing into the cosmos. A new study from a Japanese team proposes an answer. Three hundred years ago, Sgr A* put out a huge flare, making it a million times brighter than today. Today's quiet black hole may simply be the slumbering aftermath of what must have been a frenetic round of activity.
"We have wondered why the Milky Way's black hole appears to be a slumbering giant," says team leader Tatsuya Inui of Kyoto University in Japan. "But now we realize that the black hole was far more active in the past. Perhaps it's just resting after a major outburst."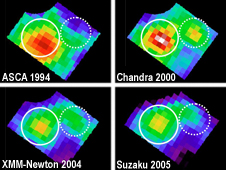 Figuring out this possibility involved measuring the brightening of clouds of gas near the black hole, so-called 'light echoes' that resulted from the clouds being bathed in X-ray pulses from just outside Sgr A*. The pulses would have been the result of gases spiraling in toward the black hole, being heated to millions of degrees, and emitting X-rays. The observed brightening involved the large cloud called Sagittarius B2, which is about 300 light years from the black hole, its iron atoms emitting X-rays of their own as a result of a flare that went off, in relative terms, when Bach was still writing fugues.
Image: Four X-ray satellites imaged a small region in the gas cloud Sagittarius B2, and saw pockets brighten and fade over the course of nearly 12 years. These light echoes are caused by varying X-ray output from our galaxy's central black hole. Credits: ASCA and Suzaku: JAXA; Chandra: NASA/CXC; XMM-Newton: ESA.
The actual event, of course, occurred long before that. The Milky Way's center is 26,000 light years from Earth; we're looking at ancient history, but able to make sense out of the sequence of events to parse out at least a bit of Sagittarius A*'s activity. This particular flare lit up the Sagittarius B2 cloud in a region ten light years across, with results varying widely over a five year period. The work follows on an earlier study of Sagittarius A* that tracked an X-ray burst some fifty years ago. The recently discovered flare was ten times stronger than that event.
Working in these wavelengths involved using archival data over an eleven year period from the major X-ray observatories — Japan's Suzaku and ASCA X-ray satellites, NASA's Chandra X-ray Observatory, and the European Space Agency's XMM-Newton X-ray Observatory. The study is Inui et al., "Time Variability of the Neutral Iron Lines from the Sgr B2 Region and its Implication of a Past Outburst of Sgr A*," slated to appear in Publications of the Astronomical Society of Japan (abstract).
Addendum: A light echo preserving an enormous X-ray flare has been observed in the galaxy SDSSJ0952+2143, as per this news release from the Max Planck Institute for Extraterrestrial Physics. The flare seems to have been produced when a single star was disrupted by a supermassive black hole. In this study, light echoes are used both to study the disruption of the star and also to map the galactic nucleus. "Reverberation-mapping of light echoes opens up new possibilities to study galaxies," says the Planck Institute's Stefanie Komossa, leader of the team on this work. Abstract of their paper here.