Following up on yesterday's post on EPOCh, the extended exoplanet mission of the Deep Impact spacecraft, I want to mention that principal investigator Drake Deming (NASA GSFC) will be in my old home town of St. Louis on June 2 as part of the 212th meeting of the American Astronomical Society. Deming will be giving an update on the search for 'super Earths' of the sort that EPOCh may be able to spot during its investigations, while David Bennett (Notre Dame) as well as Michael Liu and Trent Dupuy (University of Hawaii) will be discussing other developments related to the exoplanet hunt and the study of brown dwarfs. We'll keep an eye out for EPOCh results, particularly re GJ 436.
Also of relevance to future exoplanet as well as other astronomical studies is an upcoming report by Paul Chen (Catholic University) on work at NASA Goddard on inexpensive ways to make giant telescope mirrors on the Moon. That session will take place at the AAS on June 4 under the heading 'Speculative Astrophysics,' and speculative as it may be, the physics behind creating such mirrors seems feasible. What's problematic is the engineering and, of course, the commitment to create and expand a serious scientific base on the Moon. Still, the mind turns to Claudio Maccone's studies of dark side observatories free of Earthly interference and the possibilities become dazzling.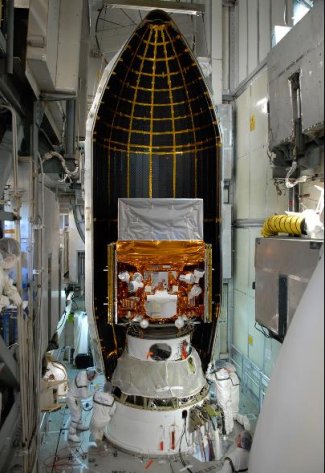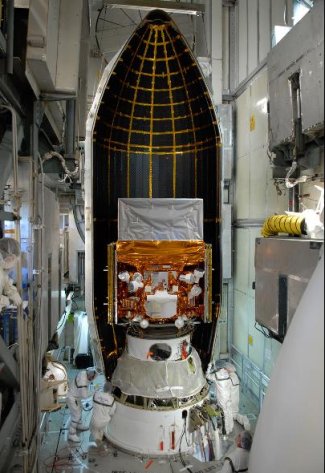 And finally, the GLAST (Gamma-Ray Large Area Space Telescope) mission, so potentially useful in the study of gamma-ray bursts (GRBs), is now closing on a June 5 launch, the window being from 1545 to 1740 UTC (remaining open through August 7). NASA TV will have launch commentary beginning at 1345. Among GLAST's exciting possibilities (recently discussed here) is detecting the signature of WIMPs (weakly interacting massive particles), the leading candidate for dark matter. The latter, if indeed composed of WIMPs, may release a continuing stream of gamma rays and secondary particles that would contrast sharply with the abrupt GRBs that are under such active scrutiny.
Image: The first half of the payload fairing is moved into place around NASA's Gamma-Ray Large Area Space Telescope within the mobile service tower on Launch Pad 17-B at Cape Canaveral Air Force Station. The fairing is a molded structure that fits flush with the outside surface of the Delta II upper stage booster and forms an aerodynamically smooth nose cone, protecting the spacecraft during launch and ascent. Credit: NASA/Jim Grossmann.
This, of course, is how science works. You study natural phenomena and create hypotheses to explain what you see (i.e., the apparent effect of 'missing' mass in galaxy formation and the gravitational lensing that seems to be produced by that mass). You test your models in hopes of finding the most reasonable explanation. Your predictions may agree with your hypothesis, but if they don't, you go back to work on the original model. Gravitational lensing involving galactic clusters is widely observable (over a hundred galactic arcs have been found), but detecting the signature of WIMPs would add highly useful background data to the dark matter hunt underway in Earth-based detectors right now.