Figuring out what makes up 74 percent of the universe is no small matter. But the late 20th Century discovery that the rate of expansion of the universe is not slowing but accelerating makes the research all but imperative. The Dark Energy Survey is behind the construction of an extraordinarily sensitive camera that will be installed on the Cerro Tololo Inter-American Observatory (CTIA) 4-meter telescope in Chile, with the aim of creating an unprecedented sky survey to probe these questions.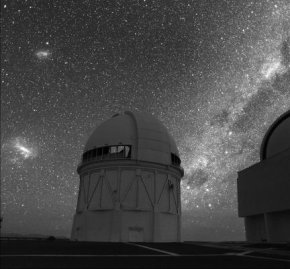 I'm looking at the original proposal for the DES survey as submitted to the National Optical Astronomy Observatory office (NOAO controls the Cerro Tololo site). The document calls the discovery of accelerated expansion 'arguably the most important discovery in cosmology since the serendipitous detection of the cosmic microwave background radiation by Penzias and Wilson in 1965' (it's hard to argue with that!). And it goes on to state the challenge posed by dark energy in stark terms:
According to General Relativity, if the Universe is filled with ordinary matter, the expansion should be slowing down due to gravity. Since the expansion is speeding up, we are faced with two logical possibilities, either of which would have profound implications for our understanding of the fundamental laws of physics: (i) the Universe is filled with a completely new kind of stress-energy with bizarre properties (in particular, negative effective pressure), or (ii) General Relativity breaks down on cosmological scales and must be replaced with a new theory, perhaps associated with extra dimensions.
You can see why dark energy would be of interest not only to astrophysicists but to those looking into advanced propulsion. Are there clues here that, properly understood, could lead us to new technologies? Accounting for how dark energy works is currently the greatest challenge in astrophysics. We're a long way from untangling it, but the implication that energies of a new order could become available to a sufficiently advanced civilization will keep dark energy research on our watchlist.
Image: The CTIO 4-meter Blanco telescope, which will be used in the Dark Energy Survey. In this photograph, the instrument is silhouetted against the Magellanic Clouds (at left) and the Milky Way, as seen from Cerro Tololo in Chile. This is not a composite image. It was taken by Roger Smith using a 2048×2048 scientific CCD which has much higher sensitivity than photographic film, revealing greater detail in exposures short enough (20 seconds) to eliminate star trails. The CCD, normally used on the telescope pictured, was temporarily mated to a Zeiss Distagon 40 mm f/4 lens by a "camera body" made in house. The only source of illumination is starlight. Credit line: Roger Smith/NOAO/AURA/NSF.
As for DES, the plan is to map 300 million galaxies through multiple filters in a field of 5000 square degrees, creating a galaxy map that should bring higher precision to current dark energy studies. We're still early in the game here, but it's encouraging to see that the pieces of glass for the camera's five lenses have now been shipped from the US to France, where they will be shaped and polished. The largest lens is a meter in diameter, to be installed in a camera with 500 megapixel capability and a fast data acquisition system that can take images in 17 seconds.
So the long process of building the DECam (Dark Energy Camera) has begun, the lenses to be polished to the smoothness of a millionth of a centimeter. Using multiple, complementary methods of studying redshift distribution, gravitational lensing, the evolution of galactic clusters and type 1a supernova distances, the plan is to improve our measurement of dark energy through a catalog of galaxies far deeper than what is available in the Sloan Digital Sky Survey. Observations in Chile are scheduled to begin in 2011 and continue until 2016.