By Larry Klaes
Just how dangerous a place is our universe? As Larry Klaes notes, the apparent calm of a quiet summer sky masks events that can dwarf the imagination. New instruments, particularly those in space, are now giving us an unprecedented look at stellar flares and exploding stars, allowing us to observe the earliest phases of their activity. The implications for life are also striking, as flaring red dwarfs and titanic supernova can attest.
When we look up at the night sky with our eyes alone, everything about it seems calm and even peaceful. Aside from a passing airplane or satellite, only the occasional meteor or twinkling star indicate any natural activities up there. Otherwise, the Universe seems almost immobile and permanent, even when we watch the stars for a long while.
Recent news by the astronomy community shows just how much of an illusion this perception actually is. On May 14, NASA announced the discovery of the youngest local supernova remnant yet known, an object unpoetically known as G1.9+0.3, located near the center of our Milky Way galaxy about 26,000 light years from Earth.
Though most stars exist for ages far longer than human minds can conceive, they are not immortal. Some last for billions of years and eventually more-or-less quietly fade away; this will be the fate of our Sun.
More massive suns do not exist for quite so long, nor do they leave the Universe peacefully. These natural fusion reactors often end up in a titanic explosion called a supernova. Some lose their nuclear fuel, causing their cores to collapse and release huge amounts of energy in the process, leaving a neutron star or black hole in their wake. Other large suns that are part of a binary system where one star is a white dwarf create their death act when too much material from the giant star is pulled onto the white dwarf companion, causing its core to heat enough to create runaway nuclear fusion and tear itself apart.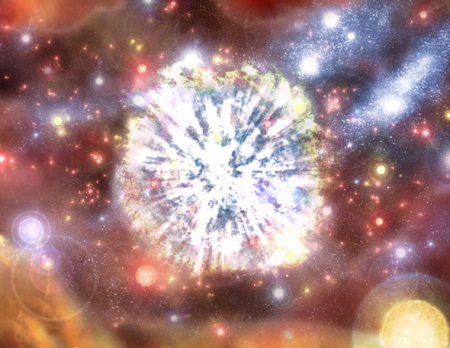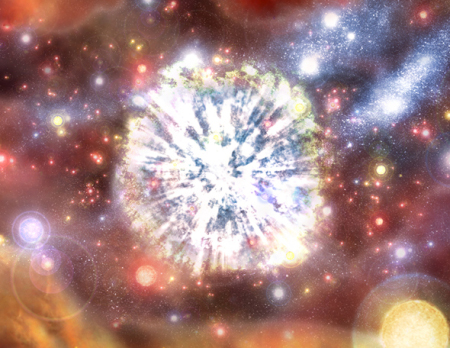 Image: This artist's impression shows what the supernova explosion that resulted in the formation of the supernova remnant G1.9+0.3 might have looked like. The expanding debris from the supernova explosion is shown in white, including some interaction with the surrounding gas (green). The crowded environment near the center is shown by diffuse gas (red) and dust (brown) as well as large numbers of stars with different masses and colors. Credit: NASA/CXC/M.Weiss.
While these explosions mean certain destruction and death for these suns and anything near them in space, the event also means life for any new systems that form in their wake. The debris expelled from the destroyed star contains many heavy elements that become part of other nebulae of gas and dust that collapse into new solar systems triggered by the shockwave of the supernova. This is recycling on a cosmic scale.
Such an important process for the creation of stars, worlds, and life has naturally led scientists to want to know more about the complete cycle of supernovae. Finding that G1.9+0.3 is only about 140 years old, several centuries younger than the previously youngest known supernova, is a major boon to this field.
Astronomers did not know about this particular supernova before the 1980s due to the heavy amounts of dark interstellar dust and gas that lie between Earth and that stellar remnant. The gas and dust being spewed into space from the stellar explosion did heat up the surrounding environment, which allowed the supernova to be detected by the Chandra X-Ray satellite and the Very Large Array (VLA) group of radio telescopes in the desert of New Mexico. The scientists were able to witness the rapid expansion of the supernova debris cloud moving at five percent of light speed (186,000 miles per second) over the last two decades, enabling them to determine the relatively young age of this celestial phenomenon.
Meanwhile, a supernova in the spiral galaxy NGC 2770 labeled SN2008D was recently caught by the X-ray telescope of NASA's Swift Observatory satellite while the space sentinel was gathering data on a different supernova in that same galaxy. This fortuitous situation allowed astronomers to witness a supernova in the act of first forming, though that galaxy and SN2008D are over 90 million light years from our Milky Way.
Regarding one of the results of a major stellar explosion, in particular a pulsar (a rapidly rotating neutron star), a sky survey named PALFA (for Pulsar Arecibo L-band Feed Array), conducted with the Arecibo Radio Observatory in Puerto Rico managed by Cornell University, came across an unusual type of pulsar named PSR J1903+0327 situated 21,000 light years from Earth.
This particular pulsar has a companion star, which in itself is not terribly unusual: The first binary pulsar was discovered in 1974 using the giant Arecibo radio telescope. Even though PSR J1903+0327 spins on its axis 465 times each second (2.15 milliseconds), which makes it among the fastest known such rapidly rotating neutron stars, this feature also does not make that pulsar so terribly unusual among its kind.
What does set PSR J1903+0327 apart from its fellow supernova remnants is the fact that it has a very elongated 95-day orbit around its companion sun, which happens to be a fairly "normal" star similar to our Sun. All other known millisecond binary pulsars orbit in nearly perfect circles around other neutron stars.
Astronomers have several theories as to why this pulsar system is so different from the rest. One idea involves the binary pulsar having formed in a globular star cluster and becoming disrupted and ejected from that large collection of suns by a close encounter with another star in that cluster. The other theory postulates a third companion to that system, perhaps another neutron star or even a white dwarf. If the latter idea turns out to be true, then PSR J1903+0327 would become the first known triple pulsar system.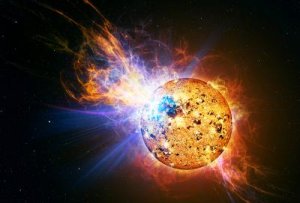 The details on this strange pulsar were published in the May 15 issue of Science Express, the online version of Science magazine (the paper is also available at the arXiv site). As if to bring home the fact that our Universe is anything but a quiet, unchanging realm, astronomers reported late last month that the Swift satellite, which observed the supernova "birth" in galaxy NGC 2770, also detected a massive flare from EV Lacertae, a faint red dwarf star just 16 light years from our planet.
Image : An artist's depiction of the red dwarf EV Lacertae and its enormous flare. Credit: Casey Reed/NASA.
How big was the flare? The huge amount of gas and other particles that erupted from this young star were so bright that they caused Swift to automatically shut down its observing telescope for safety reasons. Astronomers noted that had the EV Lacertae flare occurred on our Sun, it would have stripped away Earth's atmosphere and sterilized our planet's surface.