A massive gamma-ray burst detected last March, believed to be the brightest ever seen, turns out to have been aimed directly at the Earth. A narrow jet that drove material toward us at 99.99995 of the speed of light is revealed in the data, itself wrapped within a somewhat slower and wider jet. The best estimates are that an alignment like this occurs only once every ten years. Says Paul O'Brien (University of Leicester, and a member of the team working on the Swift satellite):
"We normally detect only the wide jet of a GRB as the inner jet is very narrow, equivalent to not much more than 1/100th the angular size of the full Moon. It seems that to see a very bright GRB the narrow jet has to be pointing precisely at the Earth. We would expect that to happen only about once per decade. On March 19th, we got lucky."
It could be said that any information we get about GRBs is in a sense lucky, given how tricky are the constraints for observing them. And indeed, another GRB just degrees away from this one was already under observation when the big blast went off, making it hard to miss. But wherever the GRB, the Swift satellite is making it possible to gather data from it, finding the original explosion and quickly alerting optical telescopes on Earth — so that they can begin observing within minutes. In this case, the blast was so intense that it temporarily blinded Swift's X-Ray Telescope and UltraViolet/Optical Telescope, and its visible light was quickly being examined by wide-field cameras in Chile.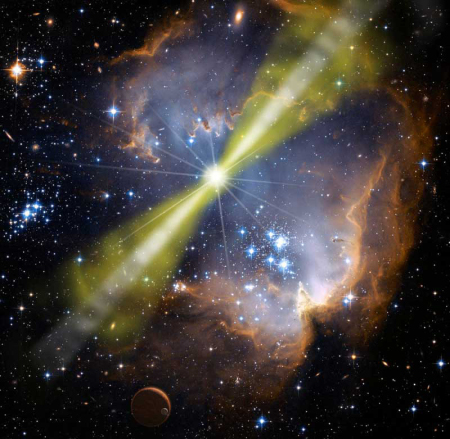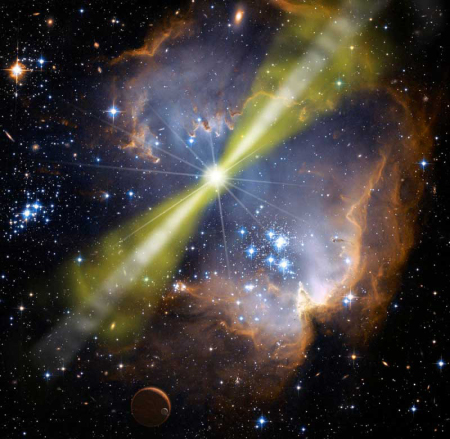 Image: This artist's concept shows the "naked-eye" GRB close up. Observations suggest material shot outward in a two-component jet (white and green beams). Credit: NASA/Swift/Mary Pat Hrybyk-Keith and John Jones.
All of this gives us the opportunity to study a GRB from gamma-ray to radio wavelengths, examining what happened to one massive star that exhausted its fuel. GRB 080319B seized the attention of the world when it became clear that the burst was actually bright enough to be visible to the unaided eye, cresting at a magnitude of 5.3 even though the star that spawned it was located over 7.5 billion light years away. The bright afterglow is the result of the gas jets muscling out from the collapsing stellar core, striking gas the star had previously shed and heating it.
The paper is Racusin et al., "GRB 080319B: A Naked-Eye Stellar Blast from the Distant Universe," slated for publication in Nature tomorrow and available here.
Addendum: Interesting comment by Alex Filippenko (UC Berkeley) in a just arrived news release (not yet up on the Berkeley site): If the supernova that produced this GRB were located 6000 light years from us, the event would have appeared as bright as the Sun. Filippenko calls it "…the most powerful event ever seen in human existence."