Seeing things that are otherwise invisible means looking for their effect on the things we can see. Examples abound: The presence of dark matter was originally inferred from the shape of galaxies, and the fact that the mass of what we could see couldn't explain how these cities of stars held together. Dark energy turned up through minute examination of supernovae, shaping the idea that the acceleration of the universe is an ongoing phenomenon. And now we have another unusual effect suggesting the presence of matter beyond the observable universe.
The work grows out of the study of some 700 galactic clusters whose X-rays, emitted by hot gases, cause measurable effects on photons from the cosmic microwave background. This is the Sunyaev-Zel'dovich effect, in which high energy electrons impart some of their energy to the CMB. A variant of the SZ effect helps us study galactic clusters in ways that now suggest the presence of inflation in the early universe. Thus Alexander Kashlinsky (NASA GSFC), who lays out the finding in this news release:
"The clusters show a small but measurable velocity that is independent of the universe's expansion and does not change as distances increase," says Kashlinsky. "We never expected to find anything like this… The distribution of matter in the observed universe cannot account for this motion."
Kashlinsky describes the motion as a 'dark flow,' pointing out that it is constant out to at least a billion light years, and suggesting that it extends across the visible universe. The extraordinary period of inflation in the early universe, a provocative theory found in Big Bang models of the cosmos, would indicate that what we see in the sky is but a portion of a much larger picture. We may thus be looking at galactic clusters that are being affected by matter that has been pushed beyond the observable universe.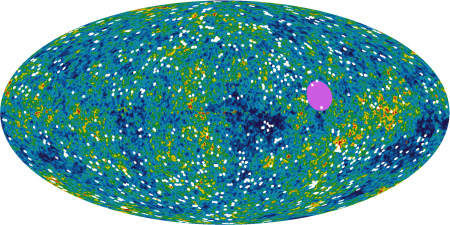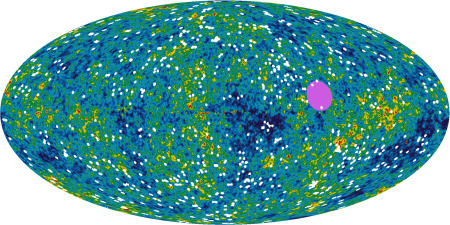 Image: Hot gas in moving galaxy clusters (white spots) shifts the temperature of cosmic microwaves. Hundreds of distant clusters seem to be moving toward one patch of sky (purple ellipse). Credit: NASA/WMAP/A. Kashlinsky et al.
So what is this matter? The tremendously challenging paper Kashlinsky and team are about to publish describes them as "…pre-inflationary remnants located well outside the present-day horizon." That, of course, offers at least the possibility of examining some features of the cosmos before inflation actually occurred. The reference is Kashlinsky et al., "A measurement of large-scale peculiar velocities of clusters of galaxies: results and cosmological implications," accepted for publication in Astrophysical Journal Letters and currently available online.