A small asteroid hitting the Earth's atmosphere is a spectacular phenomenon, but one likely to go unseen if the object has not been previously tracked. But that may be changing as we continue to install automated cameras across the planet. Take a look at this video of the object that exploded over Scandinavia on January 17. A Swedish camera recorded the event, which now goes worldwide over the Net thanks to the camera's owner, one Roger Svensson, and spaceweather.com.
The January 17 incident was little more than a lightshow, startling for local wildlife but unnoticed by the sleeping nation beneath the brief glare. It does, however, remind us of the 1017 potentially hazardous asteroids (PHAs) now known to scientists. A PHA is an asteroid larger than 100 meters that may come closer than 0.05 AU to Earth. Prowling around the spaceweather.com site, I find twelve Earth-asteroid encounters this January alone, the closest being the 1.8 lunar distance passage of 2009 BD on January 25. Only one of these is a PHA, a 120-meter rock called 2002 AO11.
A list of close approaches to the Earth by potentially hazardous asteroids can be found here, as assembled by the Minor Planet Center. Necessarily, such lists do not include recently discovered objects whose orbits have yet to be firmed up, and the site points out that the distances involved can be quite uncertain. We're learning more all the time, prizing out the more unusual of these nearby objects. Below is the MPC's plot of the inner Solar System. Seen at this scale, the environment the planets move through is a crowded place!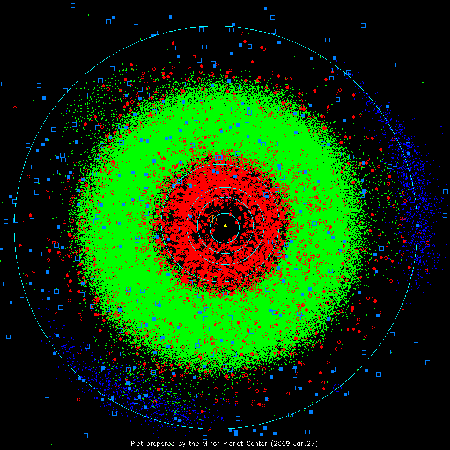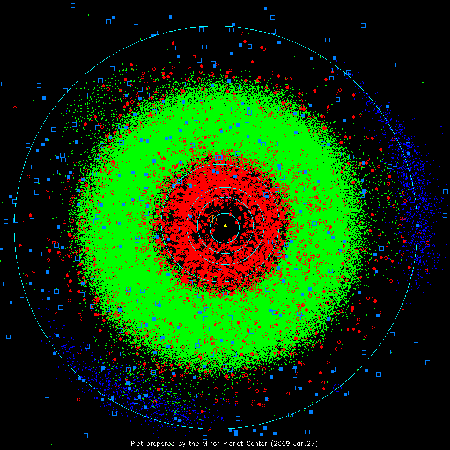 Image (click to enlarge and update): The orbits of the major planets are shown in light blue: the current location of the major planets is indicated by large colored dots. The locations of the minor planets, including numbered and multiple-apparition/long-arc unnumbered objects, are indicated by green circles. Objects with perihelia within 1.3 AU are shown by red circles. Objects observed at more than one opposition are indicated by filled circles, objects seen at only one opposition are indicated by outline circles. The two "clouds" of objects 60° ahead and behind Jupiter (and at or near Jupiter's distance from the sun) are the Jupiter Trojans, here colored deep blue. Numbered periodic comets are shown as filled light-blue squares. Other comets are shown as unfilled light-blue squares. Credit: Minor Planet Center.
2009 BD is itself a rather interesting object. When it passed by the Earth on Sunday, it was about 645,000 kilometers away, a 10-meter rock whose orbit seems remarkably close to that of the Earth. What this means is that the asteroid will stay around for some months, never wandering further than 0.1 AU until late next year. You may be reminded of asteroid 2003 YN107, which took on a corkscrew motion around the Earth after arriving in our vicinity in 1999. Says Paul Chodas of NASA's Near Earth Object Program at JPL:
"It's a very curious object… We believe 2003 YN107 is one of a whole population of near-Earth asteroids that don't just fly by Earth. They pause and corkscrew in our vicinity for years before moving along."
The term for these objects is Earth Co-orbital Asteroids, whose population may be augmented by 2009 BD if further study confirms the addition. With an orbit of almost precisely one year, they can catch up with our planet, becoming in effect a small, new moon for the duration of their visit. The co-orbital 2004 GU9, about 200 meters across, has evidently been looping around the Earth for five hundred years. 2003 YN107, on the other hand, has already departed, although it is due for another visit in about sixty years. Needless to say, such objects are interesting targets for robotic or manned exploration.