A symposium celebrating the first fifty years of NASA' exobiology program takes place on October 14 in Arlington, Virginia. 'Seeking Signs of Life' looks all the way back to 1959, when NASA funded its first exobiology investigation, an experiment for a future spacecraft to detect life on Mars. The actual exobiology program was established in 1960, and led to the three Viking experiments that eventually flew. Exobiology has these days morphed into 'astrobiology,' as we look at topics as diverse as chemical evolution in interstellar space and planetary formation.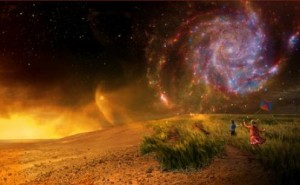 For those in range of Arlington, more information is available here. Be aware as well of a workshop on SETI that is now taking place at the National Radio Astronomy Observatory in Green Bank, WV, marking the 50th anniversary of Frank Drake's first search for extraterrestrial signals. Webcasts begin at 0830 EDT (1230 UTC), and will include Drake's views on 'SETI in 2061 and Beyond' at that time on September 15. Further information is available from NRAO.
Thinking about astrobiology has me turning to an interesting notion put forward by Caleb Scharf last week on his Life, Unbounded site. It has to do with what we mean by habitability, a necessary term in searching for life on other worlds that has to be defined to help us narrow our search, but one that may be misleading. Scharf (Columbia University) is wondering whether habitability is only part of a template that may be just a bit too tidy to be truly descriptive:
If there is one inevitable thing about life it is that particular variants, species, modes of existence, are all prone to extinction. A new work by Drake & Griffen in Nature this week makes this point rather succinctly. They show, by subjecting water flea populations to a series of unfortunate events, how the population dynamics of a species can fundamentally shift due to environmental changes. Fluctuations in population numbers occur even in stable environments, but the character and size of these fluctuations changes in degrading environments, and beyond a certain point there is no recovery. Long before it all goes down the tube there are clear statistical indicators that things are not well – population sizes drop as the tree begins to fall.
We do indeed know that extinction events are an unfortunate fact of life on planets like ours — at least, they have been on this one. Right now we're looking to a near-term future when we can go to work on planetary atmospheres, eventually subjecting terrestrial planets to scrutiny with space-based spectroscopy. But if we do find biomarkers in an alien atmosphere, what will they mean? Scharf argues that any planet we find with these methods will most likely be one in which life is moving toward instability, a fertile but dangerous period pointing to catastrophe:
We are most likely to be able to sniff out the signs of life on a terrestrial-type planet when it's in full swing. Suppose a world is having a particularly fertile episode, chock-a-block with organisms, but not a stable situation. It's prime for collapse. Relative populations will swing high and swing low. At the high point for some, a planet may show the greatest bio-signatures, and make itself far more tasty for our prying telescopic eyes. Without running the numbers it's impossible to give a precise answer, but it would seem that the odds will be shifted. We may be most likely to find not the signs of normality, but the signs of a system approaching some kind of biological collapse – just like the stock market, it's all about the fluctuations.
Evolutionary success may wind up creating all the conditions for sudden, catastrophic change, a delicate balance that, once put out of whack, quickly degrades. We may detect, then, signs of planets overrun by particular kinds of life, with populations in a state of fluctuation over timescales as low as thousands or even hundreds of years. Must it always be so? Of course not, but what Scharf is saying is that our limited detection sensitivity will hamper us in the early going, and we'd better be careful about the kind of conclusions we draw from the evidence.
Which brings me to the closing panel at the upcoming astrobiology conference in Arlington. It's titled "Homing in on ET Life: Where, and How, To Look." With our one example of planetary life to go on, the 'how' gets increasingly important. We aim for the most recognizable life scenarios but must keep in mind that what Scharf calls 'convenient truths' can mislead us. Stable, long-term life may not show as strong a signal as biological collapse, so that as is the case with 'hot Jupiters,' we start off by seeing extreme examples of a much more evenly distributed phenomenon. We'll want to learn from that lesson if it's one we observe in spectroscopy, and avoid drawing too many conclusions from the outliers that our early instrumentation may reveal.