The WISE mission has again come through, this time in the form of a discovery we've been more or less anticipating but now see confirmed. The Wide-field Infrared Survey Explorer works at infrared wavelengths ideal for spotting things we just can't find with ground-based telescopes. WISE has now turned up six Y dwarfs, stars so cool that you could set your office thermostat to match them without real discomfort. The Y dwarfs range from nine to 40 light years away.
Consider them the coldest class of brown dwarfs, completely incapable of reaching the temperatures needed to induce stable fusion at the core, their light gradually fading with time. And if the line between gas giant planets and brown dwarfs was ever malleable, it's here. The atmosphere of these stars is similar to that of Jupiter, and one of them, WISE 1828+2650, now becomes the coldest brown dwarf known, its estimated atmospheric temperature something less than 25 degrees Celsius. Says WISE science team member Davy Kirkpatrick (Caltech):
"The brown dwarfs we were turning up before this discovery were more like the temperature of your oven. With the discovery of Y dwarfs, we've moved out of the kitchen and into the cooler parts of the house."
Look closely at the center of the image below and you'll see WISE 1828+2650.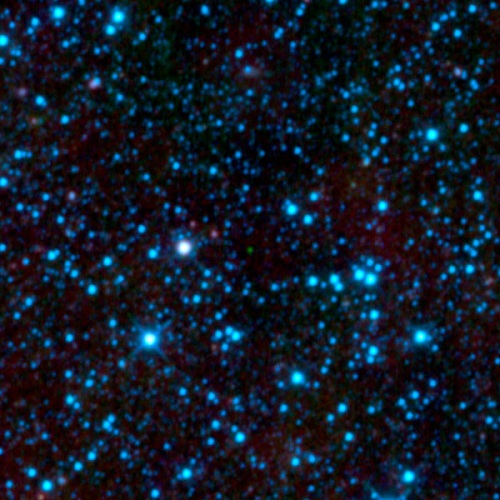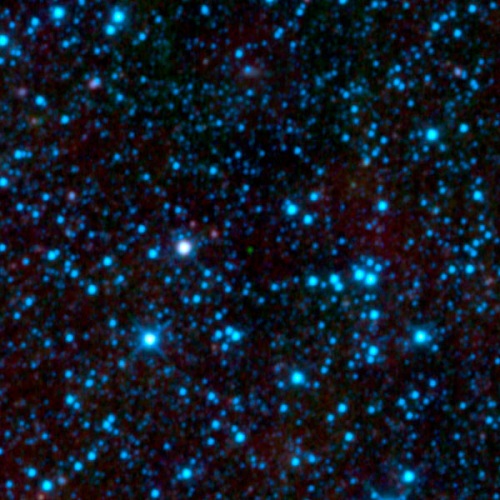 Image: NASA's Wide-field Infrared Survey Explorer, or WISE, has uncovered the coldest brown dwarf known so far (green dot in very center of this infrared image). Called WISE 1828+2650, this chilly star-like body isn't even as warm as a human body, at less than about 80 degrees Fahrenheit (25 degrees Celsius). Like other brown dwarfs, it began life like a star, collapsing under its own weight into a dense ball of gas. But, unlike a star, it didn't have enough mass to fuse atoms at its core, and shine steadily with starlight. Instead, it has continued to cool and fade since its birth, and now gives off only a feeble amount of infrared light. WISE's highly sensitive infrared detectors were able to catch the glow of this object during its all-sky scan, which lasted from Jan. 2010 to Feb. 2011. WISE 1828+2650 is located in the constellation Lyra. The blue dots are a mix of stars and galaxies. Credit: NASA/JPL-Caltech/UCLA.
But it's Michael Cushing (JPL), who is lead author of the Y dwarf paper in the Astrophysical Journal, who gets my attention. He's taking note of the fact that one of the Y dwarfs, WISE 1541-2250, may move past Ross 154 to become the seventh closest star system known, at approximately nine light years out. And Cushing is thinking the data harvest is hardly over:
"Finding brown dwarfs near our sun is like discovering there's a hidden house on your block that you didn't know about," Cushing said. "It's thrilling to me to know we've got neighbors out there yet to be discovered. With WISE, we may even find a brown dwarf closer to us than our closest known star."
There's that thought again, a brown dwarf closer than Proxima Centauri, and it's still a possibility. But whether such a star exists or not, the Y dwarfs we're now finding should be useful in their own right. From the paper:
Independent of their spectral morphology, the study of these ultracool brown dwarfs will provide important insights into both ultracool atmospheric physics and the low-mass end of the stellar mass function. Because brown dwarfs and exoplanets have similar atmospheric conditions, ultracool brown dwarfs are also excellent exoplanet analogs that can be used as benchmarks for model atmospheres. The study of these ultracool brown dwarfs will therefore directly inform the interpretation and characterization of exoplanets detected with the next generation of high-contrast imagers…
It's interesting to reflect on how the brown dwarf story has developed. The existence of this category of star was predicted in the early 1960s, but it took projects like the Two Micron All Sky Survey (2MASS), the Sloan Digital Sky Survey and the the Deep Near-Infrared Southern Sky Survey to start turning them up in bulk. But as the paper on the Y dwarf discovery notes, these successes still left a gap of almost 400 K between the coolest brown dwarfs then known (with an effective temperature of 500 K) and Jupiter (approximately 124 K). The existence of a cooler Y class to follow on to the brown dwarf spectral classes L and T seemed more and more likely, and now we have hard evidence for objects too cool to be detected by the earlier surveys.
The paper is Cushing et al., "The Discovery of Y Dwarfs Using Data from the Wide-field Infrared Survey Explorer (WISE)," accepted for publication in the Astrophysical Journal (preprint). You'll also want to see Kirkpatrick et al., "The First Hundred Brown Dwarfs Discovered by the Wide-field Infrared Survey Explorer (WISE)," accepted for publication in the Astrophysical Journal Supplement Series (preprint).