I see that there is a symposium on the MarcoPolo-R mission coming up in late March, which reminds me that at a time when asteroid missions are increasingly in the news, I have yet to cover this one. It was about a year ago that the European Space Agency selected MarcoPolo-R as one of four candidates for a medium-class mission that would launch between 2020 and 2024. The selection doesn't mean the mission has been finalized by any means, only that the four missions chosen will undergo a down-selection process to choose the one to implement.
Thus this mission to return a sample of material from a near-Earth asteroid for analysis in ground laboratories will have to prove itself against some formidable competition, including another particularly interesting concept called the Exoplanet Characterisation Observatory (EChO), which would orbit around the L2 Lagrange point and study exoplanet atmospheres. Exoplanets are obviously hot property right now, but asteroids are also having their moment in the Sun, with the decision by the Japanese space agency (JAXA) to collect samples from asteroid 1999 JU3, and NASA's OSIRIS-REx mission to asteroid 1999 RQ36 slated for a 2016 launch.
MarcoPolo-R fits in well with the OSIRIS-REx mission because both target primitive asteroids, meaning asteroids with low albedo that are thought to be composed of the most ancient materials in the asteroid family. Both the Hayabusa mission to Itokawa and NEAR's mission to Eros targeted asteroids belonging to the more evolved S class of asteroids. Primitive asteroids are thought to contain organic materials, their dark surfaces possibly laden with carbon-rich material that no process of planet formation has altered. The one primitive asteroid we've thus far had a close look at is Mathilde, which reflects only three percent of the Sun's light.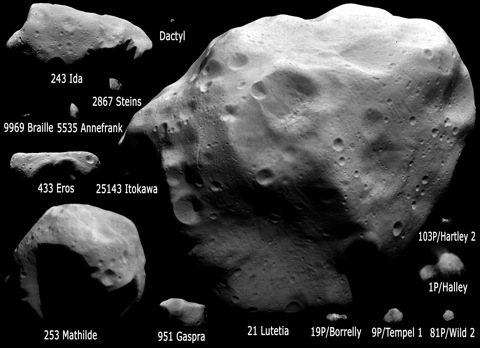 Image: All the images collected by space missions during fly-bys or dedicated visits to asteroids and comets. Regarding asteroids, only the 50 km-size Mathilde has a spectral type and albedo (0.03) consistent with primitive material. However, its size (and therefore gravity) is much higher than that expected for the kilometer-size target of MarcoPolo-R. Credit: ESA.
Is it possible that asteroids like these delivered prebiotic material to the early Earth? Getting the opportunity to study asteroid organics in the laboratory would give us insight into the question. OSIRIS-REx (Origins, Spectral Interpretation, Resource Identification, Security-Regolith Explorer) is also a sample return mission, with return to Earth slated for 2023 after the spacecraft has spent more than a year orbiting 1999 RQ36. Both these missions will offer us further knowledge about the overall composition of near-Earth asteroids, useful information in the event that we ever need to nudge such an object out of a potentially threatening trajectory.
The new Japanese mission, meanwhile, targets asteroid 1999 JU3, likewise interesting from the standpoint of raw materials and an object thought to have come from the main belt between Mars and Jupiter. Humberto Campins (University of Central Florida) is a member of both the Marco Polo-R and OSIRIS-REx teams, as well as an expert on 1999 JU3, about which he says:
"Based on our analysis, it should be rich in primitive materials, specifically organic molecules and hydrated minerals from the early days of our solar system. If successful it could give us clues about the birth of water and life in our world."
The baseline target for MarcoPolo-R is the binary asteroid (175706) 1996FG3, although several other primitive asteroids with launch windows consistent with the mission have been identified. In addition to learning about the nature of organics in primitive asteroids and their possible role in life's development, we'll also have a window into the processes occurring in the early Solar System that led to planet formation, and learn whether near-Earth asteroids contain pre-solar materials that have not as yet turned up in meteoritic samples. The synergy between the three missions is obvious as the MarcoPolo-R symposium approaches on the 26th of March.