As we continue to think about the implications of Planetary Resources and its plans for asteroid mining, I was interested to see exoplanet hunter Sara Seager (MIT) make a rousing case for the company's ideas and for commercial space ventures in general. Seager, who works with Planetary Resources as a science advisor, tells The Atlantic's Ross Andersen in a May 14 interview that one reason for optimism is the progress we're making with robotics. Mining operations currently being managed beneath the seas are being handled by robotics. Couple that with our ability to get to and orbit an asteroid as well as to scoop up surface materials and you have all the ingredients for a workable mining operation in a low-gravity environment.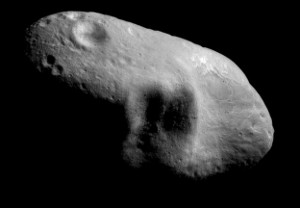 Seager explains that asteroids are attractive mining targets because unlike fully formed planets like the Earth, their heavier elements have not largely sunk inside through planetary differentiation in the early days of the planet's existence. Asteroids are either fragments of bigger objects or building blocks that were never fully formed, meaning that high-value platinum metals should be readily accessible on the right kind of object. Their low gravity and, in the case of NEA's, proximity mean that they are attractive targets from which to return materials.
Image: All the technologies may be falling into place for asteroid mining. But is a move to commercial operations a story with even bigger implications? Credit: NASA.
Planetary Resources is intriguing not only because of potential mining returns but because it involves a different model of detail and risk than would be acceptable in a government-created program. Here Seager invokes the Mars Science Laboratory, a $2 billion mission that will land a rover on Mars this summer. MSL became a huge operation because it is a general science mission that demands the 10 different science instruments aboard the craft, making it a heavier rover and demanding a landing system far more complicated than the air-bag methods we've used successfully in our last several Mars landings. A private firm, on the other hand, can focus tightly on a specialized goal rather than aiming for a multi-purpose mission from the start.
But there's a bigger difference, adds Seager:
In the private spaceflight world there are focused goals with profit and new capability as priorities. At NASA the motivation for space missions is different. In addition to big and general science goals, the main goal appears to be not to fail. In this sort of culture the bigger space companies and academia are taught that it, the mission, has to work.
Even the large space companies like Lockheed and Northrop Grumman can become trapped inside this paradigm, for they are not creating long-term, sustainable businesses with the work they perform for the government. Instead, they are operating within a culture riddled with bureaucracy and plagued with high costs. Seager likes the look of young and lean space companies:
…at small space companies, things can fail. Risk is part of developing new technology. Also, for the big space companies the whole competition is just getting the government contract. The competition is not about making something awesomely cool, first to market, and making a ton of money out of it. So in my opinion, the motivation factor and the risk aversion factor make it basically impossible for these larger companies to shift gears. The question that is on the minds of a lot of people is "Can America continue to be competitive in space with the current paradigm?" And the answer is no. That is the reason we have seen the rise of the commercial space flight world—they're trying to start a new paradigm for spaceflight with a sustainable business that doesn't just rely on government contracts.
The Seager interview is well worth your time as she discusses not only the Planetary Resources business model but the implications involved in getting a new generation of small and inexpensive technology into space. It's no surprise that the Arkyd series of spacecraft should catch her eye, since Seager is also involved in a project called ExoplanetSat, a prototype 'nanosatellite' that can monitor a single, Sun-like star for two years. This gets seriously interesting when you start talking about producing a large number of such satellites, because while we have the Kepler mission monitoring planetary transits in a fixed field, we have no mission in the works to hunt for planets around the nearest and brightest stars.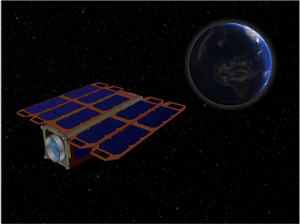 So instead of a single space telescope fixated on tens of thousands of stars, most of them distant from the Sun, we invert the model to produce a fleet of tiny telescopes with a single target each, with the detailed properties of each star under observation programmed into each instrument. You can see why Planetary Resources' plan to launch a large number of small space telescopes would appeal to Seager. The Arkyd series (based on the company's original name) would allow small institutions to buy a space telescope for a price ranging from $1-10 million, opening space-based observations to universities or even wealthy individuals.
Image: ExoPlanetSat is just 10 centimeters tall, 10 cm wide and 30 cm long, and will complement existing planet-hunters like NASA's Kepler space telescope and ground-based assets. It gives NASA the ability to dedicate relatively inexpensive assets to stare at a star for long periods of time to look for transits. Credit: MIT/Draper Laboratory.
Here again Seager sees Planetary Resources tweaking the basic model of how science gets done. A telescope specifically designed for a unique science goal can produce superb results, as we've learned from Hubble, CoRoT, Kepler and other missions. But bring a commercial interest into the mix and a new flexibility emerges. Planetary Resources can sell small space telescopes into a new market, while also using the product for its asteroid characterization work. The mix of motivations provided by commercial space drives the enterprise. Adds Seager, "If you're part and parcel of the commercial space flight world, it appears you can get a lot of interesting things done. I think that in academia we could learn a lot from the business world."