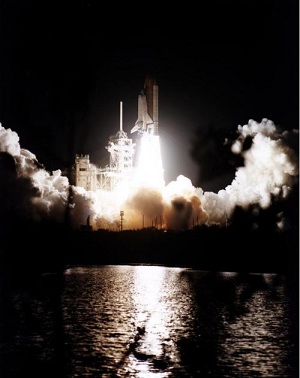 Back in 1997, astronaut John Grunsfeld pulled off one of the great radio gags of all time by calling in to National Public Radio's 'Car Talk' program while orbiting the Earth aboard Atlantis in STS-81. He had called to complain about his vehicle's performance which, as he told the show's hosts — known as 'Click and Clack, the Tappet Brothers' — was driving him crazy. His troublesome ride would buck and rattle and run loud for four minutes, then get much quieter for another ten, and then the engine would quit. Odd behavior for any vehicle but the Space Shuttle, as Click and Clack eventually realized, and a memorable exploit for Grunsfeld's second Shuttle mission.
Image: A bumpy ride to orbit — liftoff of STS-81 on January 12, 1997. Credit: NASA.
Grunsfeld is more commonly remembered as a repairman for the Hubble Space Telescope, a task he performed on three subsequent missions without the help of 'Car Talk.' Now the astronaut, with over 58 days in space and eight space-walks, is in the news again, this time with a plan that would not only save NASA money on a future mission design but rescue equipment that is otherwise unused. Grunsfeld has presented a plan to use one of two space telescopes the size of Hubble that were originally designed as spy satellites and re-purpose the instrument toward deep space exploration. Its uses in studying dark energy and exoplanets are among the attractions.
An even bigger attraction is that this hardware is sitting in storage waiting for a ride. The indispensable Dennis Overbye has the story in yesterday's New York Times, where he discusses what Grunsfeld had to say on Monday at a meeting of the National Academy of Sciences in Washington. The telescopes themselves are in a 'clean room' in Rochester, NY, the property of ITT Exelis, an aerospace and technology company headquartered in McLean, VA. The National Reconnaissance Office is ready to pass them along. Overbye offers a description:
Dr. Grunsfeld described the telescopes as "bits and pieces" in various stages of assembly, lacking a camera and other accouterments, like solar panels or pointing controls, of a spacecraft. "We can't say what they were used for," he said.

A spokeswoman for the National Reconnaissance Office, Loretta Desio, said, "This is not something we're going to talk about," adding, "We're hoping this becomes a NASA story."

The two telescopes have a 94-inch-diameter primary mirror, just like Hubble, but are shorter in focal length, giving them a wider field of view: "Stubby Hubbles," in the words of Matt Mountain, director of the Space Telescope Science Institute, adding, "They were clearly designed to look down."
But astronomers are telling Grunsfeld they can also be used to look up and out. The question of the moment: Could a repurposed telescope like one of those at ITT Exelis be folded into the WFIRST concept? The Wide Field Infrared Survey Telescope, recommended by the National Academy of Sciences in 2010, has been slated for a launch in the mid-2020s, if then, but the $1.5 billion project could be completed sooner and at lower cost — about $250 million lower — if one of the repurposed telescopes were to be used. Overbye points out that the telescope would have twice the diameter as the one being considered for WFIRST, allowing operations in geosynchronous Earth orbit rather than the solar orbit previously anticipated, and offering a faster sky survey as well as more efficient data downloads.
And yes, suitably modified, one of these telescopes could also be used as an exoplanet hunter. Grunsfeld, who is now NASA associate administrator for space science, has worked out the initial details with a team of astronomers, who seem enthusiastic about the prospect of getting WFIRST — or something perhaps even better — into the sky in an earlier time frame. Could we see a mission using a telescope with four times the light-gathering power of the WFIRST concept ready to fly as early as 2020? The opportunity is there even if a new cost estimate is not, but surely the possibility will come in for consideration at the highest levels. Unused equipment sitting in storage is made to order for economic times like these.
Addendum: This story has plenty of layers to it. See, for example, These Are Not the Telescopes NASA Was Looking For, which just appeared on NASA Watch. Also, check this site (thanks Bill Higgins) and find "Implication of New Developments for the Astronomy and Astrophysics Decadal Survey" — Alan Dressler, Observatories of the Carnegie Institute. Also see "New Developments in Astronomy and Astrophysics" — Paul Hertz, Associate Administrator for NASA Science Mission Directorate (SMD), linked off the same page. Finally, Marcia Smith has a good overview of the initial announcement on SpacePolicyOnline.com.