About a year ago a French couple by the name of Comette returned to their home to find that a meteorite had struck their house while they were away on holiday. It could be said that the Comettes already had a celestial connection — if in name only — but now the heavens impinged upon their lives again, a fact they didn't realize until their roof began to leak. Living in Draveil, about 12 miles south of Paris, the couple discovered that the space rock had blown right through a thick tile and wedged itself in glass wool insulation. It turns out to be an iron-rich chondrite some 4.57 billion years old.
France, according to this article in The Telegraph, receives the highest number of meteorites per capita in the world, and the Comettes have no intention of parting with this one. The story reminded me of 14-year old Gerrit Blank, who was hit on the hand by a red-hot piece of rock about the size of a pea that went on to create a foot-wide crater in the ground. This was back in 2009 in Essen, Germany, and young Gerrit is doing just fine. I have no idea what the odds of being hit in a meteor strike are, much less of surviving one, but Gerrit now sports a three-inch scar on his hand that will be fodder for countless stories down the line.
Addendum: See the comments below — the Blank story is evidently a fabrication, as I learned after writing this.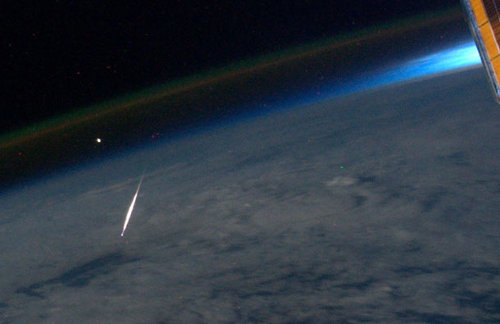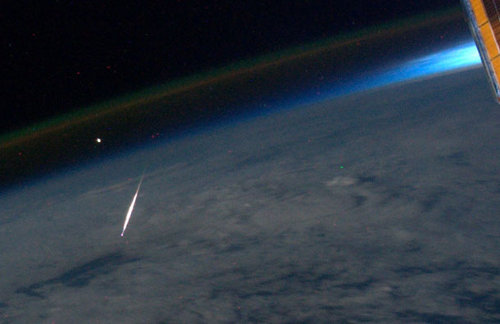 Image: A meteor burning up in the atmosphere during the annual Perseid meteor shower, as seen by astronaut Ron Garan aboard the ISS in 2011. Credit: Ron Garan/NASA.
Celestial objects that hit our planet have also been on the mind of students at the University of Leicester, who have gone to work on the 1998 film Armageddon, in which Bruce Willis drills into an Earth-bound asteroid and detonates a nuclear device that splits the object in half. The planet is saved from destruction by this act as the remaining fragments are diverted. What the students were able to demonstrate was that Willis' method wouldn't have worked, not unless he had a bomb about a billion times stronger than anything ever detonated on Earth.
The Soviet Union's 'Big Ivan,' says this University of Leicester news release, wouldn't have stood any chance of splitting an asteroid with the properties described in the film. It turns out that 800 trillion terajoules of energy are needed to split the asteroid and drive its pieces away from our planet, while the total energy output of the Soviet blockbuster was 418,000 terajoules.
So much for Bruce Willis. Moreover, the students found that the asteroid would have had to be split very early in the process, almost immediately after it could have been detected. Now that's a scenario I can work with — early detection is crucial because you have to allow time to get to the object in question, not to mention deploying whatever threat mitigation tools you bring with you. In the case of Armageddon, the depicted asteroid would surely have struck our planet because we lack the ability to see it soon enough or get to it fast enough.
The papers on this work were published in the University of Leicester Journal of Special Physics Topics and are accessible here. The journal comes out once a year and contains papers written in the final year of the students' Master of Physics degree, so it serves as training for those planning to become actively involved in scientific publishing. In this case, the idea of taking a popular film and asking whether its science is valid is an excellent corrective. After all, movies like Armageddon reach huge audiences, but all too often contain scientific errors that compromise the story, even if a forgiving audience is ready to overlook them.
But back to smaller celestial debris. Back in 1954, a fragment the size of a grapefruit blasted through the roof of a house in Sylacauga, Alabama, eventually landing — after bouncing off a console radio — upon one Ann Elizabeth Hodges, who was asleep on her living room sofa. Until Gerrit Blank came on the scene, I'm aware of no one else being struck by a meteorite. Remarkably, the Hodges' rented white-frame house was across the road from the Comet Drive-In Theater, which featured a neon sign showing a comet streaking through the heavens. The meteorite fragment is now found at the Alabama Museum of Natural History in Tuscaloosa.
All of which leads me to note that the Perseid meteors should be turning up late Saturday night and early Sunday morning (August 11-12). Alan MacRobert, a senior editor for Sky & Telescope, says that while the Perseids seem to emanate from the constellation Perseus, they can flash into view almost anywhere as long as the constellation is above the horizon. "So," says MacRobert, "the best part [of] the sky to watch is wherever is darkest, probably straight up." And don't be too concerned about becoming the next Gerrit Blank — the Perseids are pieces of Comet Swift-Tuttle and are more like clumps of dust than lumps of rock and iron.