I remember having a particularly strong 'sense of wonder' moment when reading Poul Anderson's "The Snows of Ganymede" when I was a kid. Anderson was good at this kind of thing, but really my reaction was not just to this story but to the whole notion of taking a distant astronomical object and placing people in it. A bright point in the telescope suddenly becomes a landscape and you feel your sense of scale – the sheer immensity of things – beginning to shift under your feet. These thoughts are triggered by the latest news from the Dawn mission about Vesta, and a UCLA news release commenting on the asteroid's steep topography, which often leads to landslides.
Immediately I was thinking of stark drops and boulder-strewn regolith with no friendly blue/green Earth in the sky and wondering what it would be like to see Vesta in person. Thus dreams accumulate. Ray Bradbury found that attaching names to unknown places is a distinctively human enterprise, and one that when abandoned suggested deep change in the psyche (see "Dark They Were and Golden-Eyed," one of Ray's superb Mars stories, for more on this). We're well along in naming features on the worlds our space probes have revealed to us, but standing in the imagination amidst these forbidding landscapes is what really makes some of the deep space imagery sing to me. That feeling is also, of course, a prime reason for reading science fiction.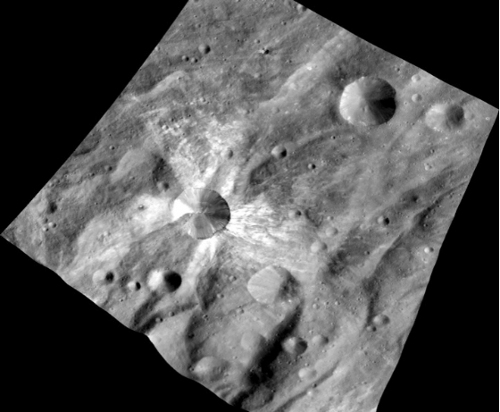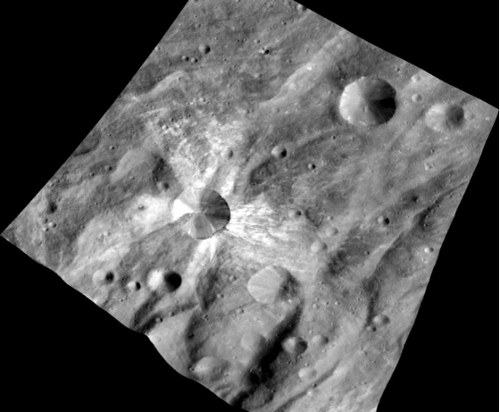 Image: Vesta's surface as imaged by the Dawn spacecraft. Credit: NASA/JPL.
The frisson of deep space brings many into the field, but thankfully the science holds just as deep a sway on the imagination. About Vesta we've learned the unexpected fact that the asteroid — or protoplanet, as you choose – has a range of brightness that is about as extreme as any rocky object yet found in the Solar System. The tiny world's variation in dark and light areas has been under intense scrutiny, with the finding that the widely distributed dark areas — apparently not correlated with underlying geological features — are likely material from carbon-rich asteroids. Thus Christopher Russell (UCLA, and Dawn principal investigator):
"Ever since Dawn arrived at Vesta [in July 2011] and we saw the bright and dark streaks across the surface, we have wondered how the zebra got her stripes. Now we know that the bright streaks and spots are due to very pure early Vestan material, and the dark patches are deposits on the surface most probably due to collisions with material from the dark outer reaches of the asteroid belt."
The estimate is that to arrive at what we see on Vesta today, approximately 300 dark asteroids between 1 and 10 kilometers in diameter have struck the protoplanet during the last 3.5 billion years. The researchers, whose work appeared on November 1 in Nature, believe that enough accumulated to produce between 1 and 2 meters of material on the surface. Because Vesta is thought to have formed at the very beginning of the Solar System, it is a place that records the system's formation some 4.5 billion years ago, and a surface that has had plenty of time to accumulate debris from impacts.
Meanwhile, it's interesting that while we have observed a form of 'weathering' on the Moon and on various asteroids, Vesta's surface seems to be continually renewed. The weathering is thought to be the result of the accumulation of metallic particles containing iron, and we would expect these to dull the outer layers of the surface of Vesta. The researchers say, however, that Dawn's visible and infrared mapping spectrometer (VIR) and framing camera find no such accumulation. Here the steep topography mentioned above comes into play, leading to landslides that mix surface materials. Impacts large and small should also mix the outer layers over time.
Now that Dawn is on its way to Ceres, the largest object in the main belt, keep in mind that this is one of the darkest of the asteroids, meaning we're likely to learn more there about the dark materials that have had such an effect on Vesta. Ceres also beckons because it is thought to hold water or ice in substantial amounts under its crust, adding to its astrobiological interest. Operations around Ceres begin in 2015, at which time our imaginations will be able to seize on yet another set of deep space images showing us terrain features in need of names, out of which we can fashion a new set of dreams.
The papers are Pieters et al., "Distinctive space weathering on Vesta from regolith mixing processes," Nature 491 (01 November 2012), pp. 79–82 (abstract) and McCord et al., "Dark material on Vesta from the infall of carbonaceous volatile-rich material," Nature 491 (01 November 2012), pp. 83–86 (abstract).