A long time ago in what now seems like a different lifetime, a colleague told me that the best parts of any conference were the accidental encounters in the hallways where you ran into old friends or people whose work you knew about but hadn't yet met. That was back when I was going to conferences about medieval literature rather than starships, but the lesson holds. There were almost too many such encounters at the 100 Year Starship 2014 Symposium in Houston to count, and it seemed that around every corner was a chance to exchange ideas and opinions.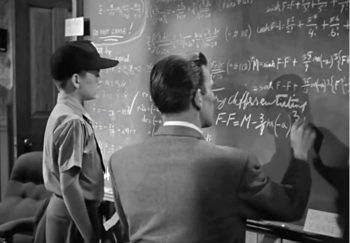 There were also enough tracks and ongoing events that it was impossible to get everything in. Claudio Maccone and I always get together, and when I saw him crossing the lobby of the Hilton Americas hotel, I intercepted him to see if he wanted to join a group of us for dinner. But Claudio was headed for a screening of the 1951 version of The Day the Earth Stood Still, a film he had never seen, and I could hardly ask him to turn down the opportunity.
Thus the gravitational lens gave way to Gort and Klaatu and Earth's chance to live in peace among interstellar civilizations or be burned to a cinder for our transgressions. 'The decision rests with you,' as Michael Rennie would say. Unlike the later version, it really was a terrific film. And Claudio and I did have the chance to catch up at a breakfast encounter filled with interstellar talk that included the lens at 550 AU and beyond. I'll have some thoughts on using it for communications on Friday.
Image: My favorite scene in The Day the Earth Stood Still. Interstellar visitor Klaatu (Michael Rennie) adds an equation to Professor Barnhardt's blackboard, knowing the professor will soon see it.
Which brings me to the reason for the title of today's post. I'm sure we've all had the dream where something is after you and you seem frozen into immobility, knowing you have to do something fast but are unable to act. I found myself in that position this morning. Still worn out from travel and pushed by non-aerospace obligations this afternoon, I fired up the computer intent on a first post about the symposium and an introduction to a week's worth of musings, technical session notes and other observations about Houston. And then…
Software glitches. Operating system updates (why did I choose this morning of all mornings not to work as usual in Linux but in Windows 7?). The Mac to PC transfer of my session notes left them completely jumbled, which took time to fix. Then Internet connectivity became unpredictable, for reasons unknown. As soon as it came back, I turned to Dropbox to pull my photos from the symposium and discovered that, because I had upgraded my phone to IOS8, DropBox was now unable to download the Houston images. Multiple downloads of Dropbox updates, to no avail (DropBox: Please fix this!). Finally a Googled workaround to get the photos on the PC.
So it was a morning where time stood still. As it did in Dallas on the way to Houston. The clouds in the photo below were the remainder of a system that, the day before, delayed my Dallas-based flight for an interminable four hours. Now I seem to be running perpetually behind schedule, and am pushing up against an outside deadline. So tomorrow I'll start digging into Houston issues, starting with a conversation between Jill Tarter and Mason Peck that evoked SETI, miniaturized spacecraft, and astrobiological signatures that might be detected by space-based telescopes.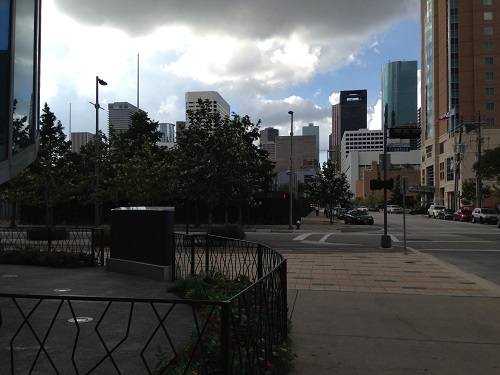 Surely the Earth will start moving normally again and I'll have fixed the remaining software snags by then. My son Miles said he was walking down the hall when Eric Davis called him over to join a group of colleagues, saying, "We've just been talking about whether we're all living in a simulation." That was right after a lunch with Al Jackson at a nearby Starbucks where Al explained how Roy Kerr came up with his metric for rotating black holes — Al was there in 1963 when Kerr presented the paper! What's not to like about a place where you get invited into conversations like this? Houston gave me much to think about and I'll start digging into it tomorrow.