This has been a week devoted to extraterrestrial technologies and the hope that, if they exist, we can find them. Large constructions like Dyson spheres, and associated activities like asteroid mining on the scale an advanced civilization might use to make them, all factor into the mix, and as we've seen, so do starships imagined in a wide variety of propulsion systems and designs. Dysonian SETI, as it is called, takes us into the realm of the hugely speculative, but hopes through sifting our abundant astronomical data to find evidence of distant engineering.
This effort is visible in projects like the Glimpsing Heat from Alien Technologies (G-HAT) SETI program, which proceeds in the capable hands of Jason Wright and colleagues Steinn Sigurðsson and Matthew Povich at Penn State (see Wright's Glimpsing Heat from Alien Technologies essay in these pages as well as his AstroWright blog). For those wanting to follow up these ideas, an excellent introduction is the paper "Dysonian Approach to SETI: A Fruitful Middle Ground?", which ran in JBIS in 2011 (Vol. 64, pp. 156-165). It's not, unfortunately, available online, though the British Interplanetary Society offers a print copy of the entire back issue here.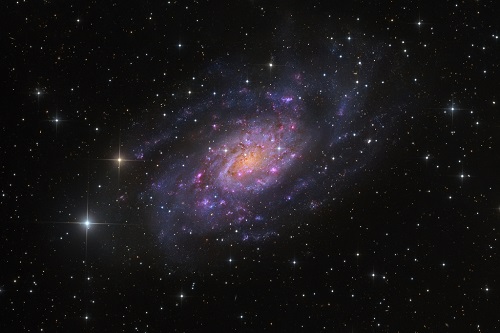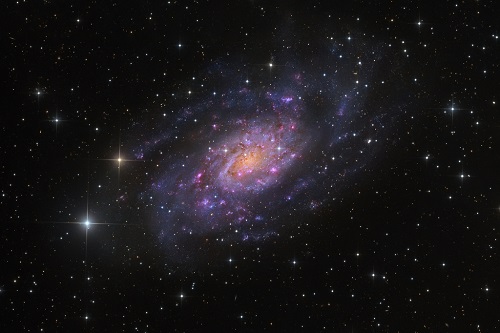 Image: NGC 2403 in Camelopardalis. Dysonian SETI, not limited to relatively nearby stars, looks for signs of astroengineering not just in our own but in distant galaxies like this one, some ten million light years away.. Credit & Copyright: Martin Pugh.
Into the Infrared
The more conventional radio and optical SETI methods continue as well. I've written often in these pages about Frank Drake's Project Ozma at the Green Bank (WV) site, and cited the classic 1959 paper "Searching for Interstellar Communications" by Giuseppe Cocconi and Philip Morrison, which more or less opened up the entire field. But equally significant is Charles Townes' 1961 paper "Interstellar and Interplanetary Communication by Optical Masers," which ran in Nature (Vol. 190, No. 4772, pp. 205-208), from which this quote:
We propose to examine the possibility of broadcasting an optical beam from a planet associated with a star some few or some tens of light-years away at sufficient power-levels to establish communications with the Earth. There is some chance that such broadcasts from another society approximately as advanced as we are could be adequately detected by present telescopes and spectrographs, and appropriate techniques now available for detection will be discussed. Communication between planets within our own stellar system by beams from optical masers appears a fortiori quite practical.
Townes, who died recently, built the first maser, which worked primarily in the microwave region of the spectrum. He was a major figure in the development of both maser and laser technologies, and a winner of the Nobel Prize in 1964. The field of optical SETI has not been as visible as the older radio SETI but its proponents are actively pursuing the search at sites like Lick Observatory, where the 1-meter Nickel Telescope has been equipped with a new pulse-detection system using three light detectors, an installation that allows what Frank Drake calls "…perhaps the most sensitive optical SETI search yet undertaken."
The new instrument is called NIROSETI, which stands for near-infrared optical SETI. It promises to gather copious data by recording levels of light over time to look for patterns that might signify a distant civilization. The beauty of working at near-infrared wavelengths is that such light penetrates much farther through gas and dust than visible light, helping us widen the search to stars thousands of light years away. NIROSETI saw first light on March 15.
Unlike Dysonian SETI, optical SETI operates under the premise that an extraterrestrial civilization may be trying to communicate with us, beaming light explicitly at our Solar System. According to this news release from the SETI Institute, NIROSETI's use of three light detectors will allow the team to separate the brief pulses of light they are looking for from false alarms of the sort that have troubled other optical SETI experiments using fewer detectors. Optical SETI 'noise' can consist of cosmic rays, incident starlight, muon showers and radioactive decay in the glass of the photomultiplier tubes of the detectors, all events to be screened out of the data.
Dan Werthimer, who along with Richard Treffers (UC-Berkeley) designed an earlier instrument for optical SETI, notes where NIROSETI departs from its predecessors:
"This is the first time Earthlings have looked at the universe at infrared wavelengths with nanosecond time scales. The instrument could discover new astrophysical phenomena, or perhaps answer the question of whether we are alone."
Shelley Wright (UC-San Diego) led the development of the new instrument while at the University of Toronto, finally signing off on detectors sensitive enough to deploy on the telescope. In addition to Wright and Werthimer, the group also includes Geoff Marcy and Andrew Siemion (UC-Berkeley), Patrick Dorval and Elliot Meyer (University of Toronto) and pioneering SETI scientist Frank Drake, whose take on the investigation is determinedly optimistic:
"There is only one downside: the extraterrestrials would need to be transmitting their signals in our direction. If we get a signal from someone who's aiming for us, it could mean there's altruism in the universe. I like that idea. If they want to be friendly, that's who we will find."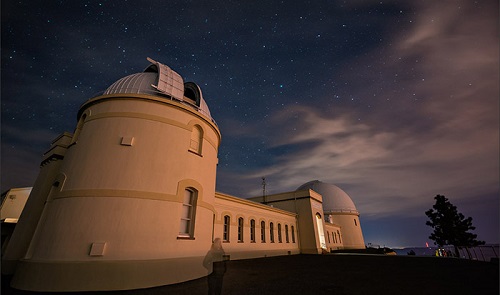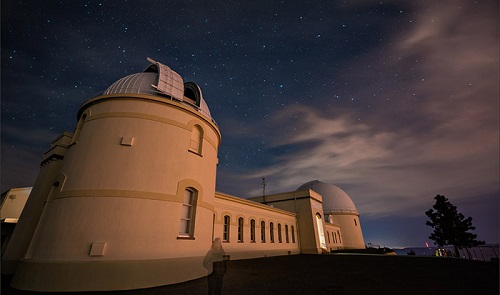 Image: Skies cleared for a successful first night for NIROSETI at Lick Observatory. The ghost image is Shelley Wright, pausing for a moment during this long exposure as the rest of her team continued to test the new instrument inside the dome. Credit: UC-San Diego.
We can hope that Frank Drake's ideas come to pass. In any event, it's clear that the definition of SETI is evolving as we continue to explore radio, optical and Dysonian strategies. In my view, the emergence of the Dysonian approach has been a genuine boon for our investigations. It reminds us how much astronomical data we have accumulated that can now be subjected to analysis in these terms. Will evidence of the existence of an extraterrestrial civilization come, if it does come, through a radio burst, an optical signal, or the observation of an anomaly in a distant galaxy?