I'm glad to see that Brian McConnell will be speaking at the International Space Development Conference in Toronto this week. McConnell, you'll recall, has been working with Centauri Dreams regular Alex Tolley on a model the duo call 'Spacecoach.' It's a crewed spacecraft using solar electric propulsion, one built around the idea of water as propellant. The beauty of the concept is that we normally treat water as 'dead weight' in spacecraft life support systems. It has a single use, critical but heavy and demanding a high toll in propellant.
The spacecoach, on the other hand, can use the water it carries for radiation shielding and climate control within the vessel, while crew comfort is drastically enhanced in an environment where water is plentiful and space agriculture a serious option. Along with numerous other benefits that Brian discusses in his recent article A Stagecoach to the Stars, mission costs are sharply reduced by constructing a spaceship that is mostly water. McConnell and Tolley believe that cost reductions of one or two orders of magnitude are possible. Have a look, if you haven't already seen it, at Alex's Spaceward Ho! for an imaginative look at what a spacecoach can be.
ISDC is a good place to get this model before an audience of scientists, engineers, business contacts and educators from the military, civilian, commercial and entrepreneurial sectors. ISDC 2014 brought over 1000 attendees into the four-day event, and this year's conference brings plenary talks and speakers from top names in the field: Buzz Aldrin, Charles Bolden, Neil deGrasse Tyson, Peter Diamandis, Lori Garver, Richard Garriott, Bill Nye, Elon Musk and more. My hope is that a concept as novel but also as feasible as the spacecoach will resonate.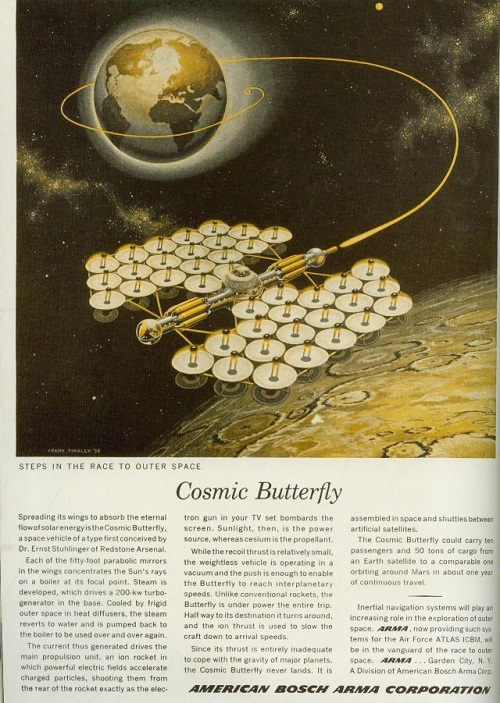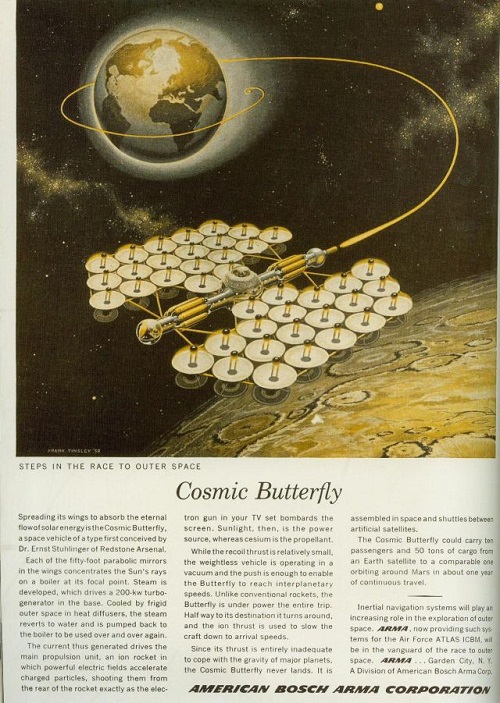 Image: Ernst Stuhlinger's concept for a solar powered ship using ion propulsion, a notion now upgraded and highly modified in the spacecoach concept, which realizes huge cost savings by its use of water as reaction mass. This illustration, which Alex Tolley found as part of a magazine advertisement, dates from the 1950s.
Towards Building an Infrastructure
We have to make the transition from expensive, highly targeted missions with dedicated spacecraft to missions that can be flown with adaptable, low-cost technologies like the spacecoach. Long-duration missions to Mars and the asteroid belt will be rendered far more workable once we can offer a measure of crew safety and comfort not available today, with all the benefits of in situ refueling and upgradable modularity. Building up a Solar System infrastructure that can one day begin the long expansion beyond demands vehicles that can carry humans on deep space journeys that will eventually become routine.
The response to the two spacecoach articles here on Centauri Dreams has been strong, and I'll be tracking the idea as it continues to develop. McConnell and Tolley are currently working on a book for Springer that should be out by late summer or early fall. You can follow the progress of the idea as well on the Spacecoach.org site, where the two discuss a round-trip mission from Earth-Moon Lagrange point 2 (EML-2) to Ceres, a high delta-v mission in which between 80 and 90 percent of the mission cost is the cost of delivering water to EML-2.
The idea in this and other missions is to use a SpaceX Falcon 9 Heavy to launch material to low-Earth orbit, with a solar-electric propulsion spiral out to EML-2 (the crew will later take a direct chemical propulsion trajectory to EML-2 to minimize exposure time in the Van Allen belts). The water cost is about $3000 per kilogram. The Falcon 9 Heavy should be able to deliver 53,000 kilograms to low-Earth orbit per launch. McConnell and Tolley figure about 40,000 kilograms of this will be water, while the remainder will be other equipment including the module engines and solar arrays. From EML-2, various destinations can be modeled, with values adjustable within the model so you can see how costs change with different parameters.
The online parametric model has just been updated to calculate mission costs as a function of the number of Falcon Heavy 9 launches required. You can see the new graph below (click on it to enlarge). At a specific impulse of 2000s or better for the solar-electric power engines, only two launches are required for most missions, one taking the crew direct to EML-2, the other carrying the water and durable equipment on a spiral orbit out from LEO. It is only the most ambitious destinations like Ceres that require three launches. At $100 million per launch, even that mission is cheap by today's spaceflight standards.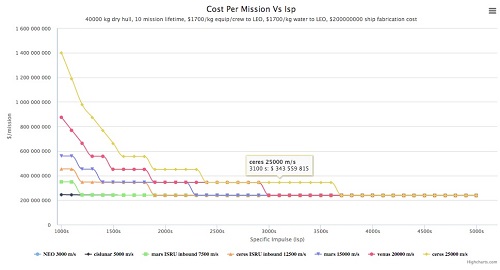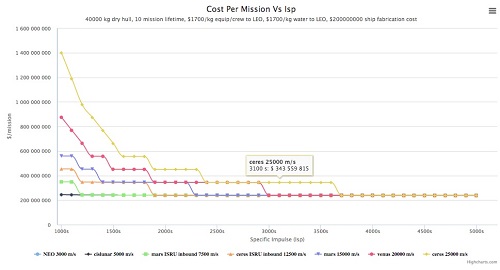 Brian notes in a recent email that the launches do not need to be closely spaced, because the spiral transfer from LEO to EML-2 takes months to complete. The crew only goes when everything else is in place at EML-2. For more on this model, see spacecoach.org. I'll be interested to hear how the idea is received at ISDC, and how the upcoming publication of the spacecoach book helps to put this innovative design for interplanetary transport on the map.