Oil companies involved in astrobiology? It doesn't seem likely, but in a roundabout way, it's true. A consortium including Chevron, Repsol, BP and Shell have a natural interest in developing better models for subsurface reservoirs and source rocks in microbe-rich carbonate environments. At the same time, NASA's Astrobiology Program is intrigued with how we could find bacterial structures on other worlds, and their role in planetary habitability.
The result: Both Big Oil and NASA are supporting research into stromatolites, the calcium-carbonate rock structures built up by lime-secreting bacteria (technically, cyanobacteria, that draw their energy from photosynthesis). We can probe ancient life on Earth by studying these accreted structures, some of which go back more than 3.5 billion years.
Erica Suosaari works for Bush Heritage Australia, an organization involved in conservation and land management. The Hamelin Station Reserve in Western Australia borders a nature reserve with vast quantities of marine stromatolites. Suosaari's work in the area, funded by the above sources, is encapsulated in a paper in Scientific Reports (citation below), as noted in an article in Astrobiology Magazine, from which this:
"Looking for evidence of life in the rocks is like finding a needle in the haystack," wrote Suosaari in an e-mail. "If stromatolites have definitive bio-signatures — such as self organized morphologies that are indicative of life processes — then it may be possible to look for that 'signature' in rocks on the surface of other planets and significantly reduce the size of that haystack."
The Hamelin Pool Marine Nature Reserve offers stromatolites in extraordinary abundance, providing the opportunity to study analogs to the earliest such formations on Earth. Suosaari and team have discovered that modern stromatolites in their sample have created structures similar to stromatolites that emerged billions of years ago. The cyanobacteria that formed ancient stromatolites are believed to be the first organisms to use photosynthesis, with the significant side-effect of producing the oxygen so useful in the development of complex life.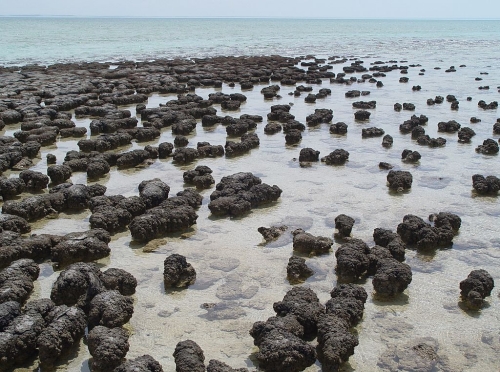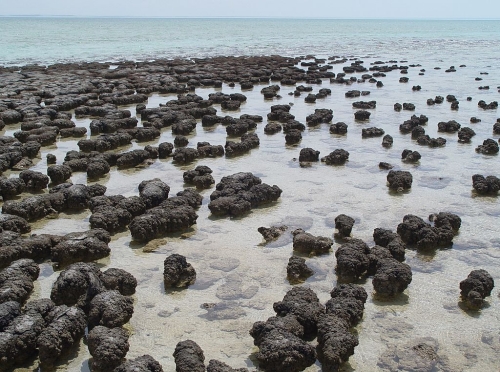 Image: Modern stromatolites in Shark Bay, Western Australia. Credit: Paul Harrison (Reading, UK) using a Sony CyberShot DSC-H1 digital camera., CC BY-SA 3.0, https://commons.wikimedia.org/w/index.php?curid=714512
Is Hamelin Pool, then, a window into the early Earth? The processes at work here involve microbes that draw from the same lineage, with the same oxygen-producing result. What's intriguing for research in the near-term is that it may be possible to transplant microbial communities like these to other places. Let me quote from the conclusion of the Astrobiology Magazine article:
Suosaari said she thought of stromatolites when reading about SpaceX founder Elon Musk's plans to bring life to the planet Mars. She suggested that because these stromatolite-building microbial communities produce oxygen, they could potentially make the Red Planet more life-friendly.

"Obviously with Elon Musk's plans, we don't have billions of years to shape the atmosphere if he is planning to move life there in the coming years, and Mars has less than 1 percent of the atmosphere of Earth," she acknowledged. "But I begin to think about photosynthesizing microbial mats and how they have prevailed for billions of years; it's a kind of resilience and longevity that our species hasn't yet achieved. Perhaps we should look to these microbial communities to generate oxygen on the Red Planet at a small scale."
An intriguing thought, as is the idea that fossil evidence of life on far more distant exoplanets may eventually tell our probes something about how life took hold there. In the case of Earth-based stromatolites, we see microbial mats that colonize the surface of the structure, mats that vary according to where the stromatolite is situated in the tidal zone. Consider the stromatolite as a record of previous surface mats, while the shapes of the various kinds of stromatolite relate to differing conditions in the broader pool.
This is an evidently global record, if we can learn to read it. Note this from the paper:
New insights regarding stromatolite growth in Hamelin Pool present opportunities for comparative sedimentological research advancing understanding of early Earth. The diversity of morphologies in the eight Stromatolite Provinces… provides a unique opportunity for investigating environmental and/or biological processes determining stromatolite morphology…. Of particular note, previously unreported, elongate nested subtidal structures of Spaven Province are remarkably similar to 1.9 billion year old longitudinal stromatolites at Great Slave Lake, Northwest Territories.
Could we find structures like these on distant planets? I'm reminded of the enigmatic 'stolid, dark tower images' returned to Earth by AXIS, a probe sent by a future Earth to Alpha Centauri B in Greg Bear's Queen of Angels (1990). The AXIS data convince some that an intelligent life-form must have created the towers, but later the view shifts:
"The only news we have from AXIS may or may not be significant. A recently received analysis shows that at least three of the circular tower formations discovered by AXIS on Alpha Centauri B-2 are made up of mixes of minerals and organic materials, the minerals being calcium carbonate and aluminum and barium silicates, and the organic materials being amorphous carbohydrate polymers similar to cellulose found in terrestrial plant tissue. AXIS has told its Earth-based maters that, in its opinion, the towers may not be artificial structures…"
With knowledge of life's development limited to our own planet, we can't yet know what kind of structures are implicated in the development of life elsewhere, allowing habitable conditions to gradually develop. But we may eventually find structures just as rich in their own way as the stromatolites at the Hamelin Pool Marine Nature Reserve, and as enigmatic as the formations the orbiting AXIS probe investigates from its perch high above a habitable Centauri planet.
The paper is Suosaari et al., "New multi-scale perspectives on the stromatolites of Shark Bay, Western Australia," published online by Scientific Reports 3 February 2016 (full text).