The other day on the hugely enjoyable Galactic Journey site, I ran into an interesting historical tidbit. Here, from the 1753 Cyclopædia: or, An Universal Dictionary of Arts and Sciences by Ephraim Chambers is a definition of the word 'interstellar.'

And with a modernized presentation:
"Interstellar, is a word used by some authors to express those parts of the universe that are without and beyond our Solar system; in which are supposed to several other systems of planets moving around the fixed stars as the centers of their respective motions: and if it be true, as it is not improbable, that each fixed star is thus a sun to some habitable orbs, that move round it, the interstellar world will be infinitely the greater part of the universe."
Another early instance of planetary systems around other stars in wide circulation at an early date. Chambers was working for John Senex, a London-based globe-maker, when he conceived the plan for his Cyclopædia, a project to which he soon devoted his entire attention. The first edition appeared by subscription in 1728 in a two volume, 2466 page folio, but the work, one of the first general encyclopedias to be published in English, would see numerous further editions, including one in Ireland as well as an Italian translation.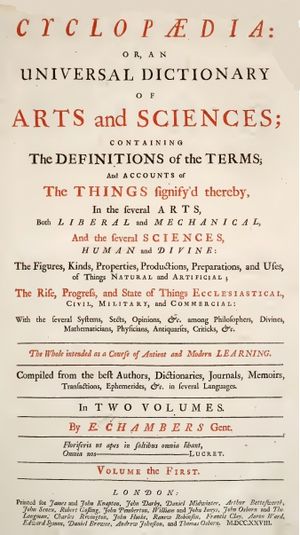 Those of you who are not yet familiar with Galactic Journey will want to remedy the lack, especially if you enjoy science fiction as much as most Centauri Dreams readers do. The site is something of a time machine, written from the perspective of science fiction magazines and events of over 50 years ago, and what's delightful to me is that I often find issues of Analog or Fantastic discussed that I bought off the newsstand when they appeared. And because I love magazine fiction, every one of those issues is still here on my shelves, approximately ten feet from where I'm now writing.
We're pushing into holiday travel time, so I'm going to close up shop until next week. Let me wish all of you a happy season and thank you for the comments and suggestions with which you've always enlivened the site. We have much to talk about in coming days, but for now, safe journey to all of you on the road.