Twitter action has been fast and furious with this morning's news of the first clear dip in light from Boyajian's Star (KIC 8462852) since the Kepler data.
#TabbysStar IS DIPPING! OBSERVE!! @NASAKepler @LCO_Global @keckobservatory @AAVSO @nexssinfo @NASA @NASAHubble @Astro_Wright @BerkeleySETI

— Tabetha Boyajian (@tsboyajian) May 19, 2017
I'm on the road most of today and so couldn't get off a full post, but I did want to pass along Tabetha Boyajian's newsletter, short but sweet.
Hello all,
We have detected a dip in progress!
Not much time to share details – we are working hard coordinating followup observations.
Here is a snapshot of LCO data for the Month of May. Stay tuned!
~Tabby et al.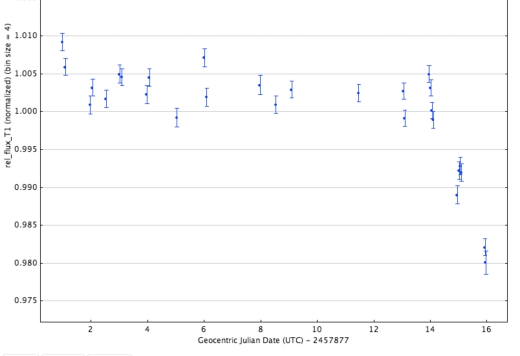 And here is Jason Wright's video chat on this event during his visit to UC Berkeley.