Yesterday's post dwelt on an article by Steven Johnson in the New York Times Magazine that looked at the issue of broadcasting directed messages to the stars. The article attempted a balanced look, contrasting the goals of METI-oriented researchers like Douglas Vakoch with the concerns of METI opponents like David Brin, and fleshing out the issues through conversations with Frank Drake and anthropologist Kathryn Denning. Johnson's treatment of the issue prompted a response from a number of METI critics, as seen below. The authors, all of them prominent in SETI/METI issues for many years, are listed at the end of the text.
We thank Steven Johnson for his thoughtful New York Times Magazine article, which makes it clear that there are two sides to the METI issue. We applaud his idea that humankind needs a mechanism for decision-making on long-term issues that could threaten our future.
As Johnson implies, deliberately calling ourselves to the attention of a technological civilization more advanced than ours is one of those issues. What we do now could affect our descendants.
As Johnson asks, who decides? Without an agreed approach, the decision to transmit might be made by whoever has a sufficiently powerful transmitter.
Astronomers have given us an additional reason for addressing this question: the discovery of thousands of planets in orbit around other stars, increasing the probability that life and intelligence have evolved elsewhere in our galaxy.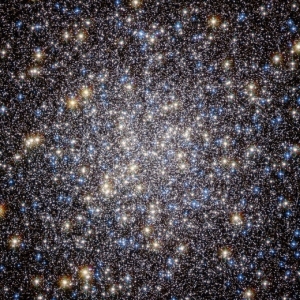 METI is not scientific exploration. It is an attempt to provoke a reaction from an alien civilization whose capabilities and intentions are not known to us.
The most likely motivation for alien intervention is not a wish to exploit Earth's territory or resources, but the potential threat posed by a new space-faring civilization — us. Scientists and engineers already are designing Humankind's first unmanned interstellar probes. Some might be visiting nearby stars less than a century from now.
Image: Taken by the Advanced Camera for Surveys on the Hubble Space Telescope, this image shows the core of the great globular cluster Messier 13, to which a message was beamed in 1974. Credit: ESA/Hubble and NASA.
Though altruism may be a noble goal, human history suggests that it rarely extends beyond one's own species. We have not been very altruistic toward dolphins, whales, or chimpanzees.
What mechanism can we devise for what Johnson calls global oversight of METI? In the 1970s conferences at Asilomar assessed dangers from the then theoretical notion of genetic engineering. The resulting compromises improved laboratory safety while allowing continued research in this field under an agreed set of rules.
In the 1980s, some of us proposed a first step toward agreed rules through the document known informally as the First SETI Protocol, which calls for consultations before responding to a detected alien signal. (That protocol has been endorsed by most SETI researchers, but has not been adopted by government agencies.) An attempt to gain consensus on a second protocol calling for consultations before the transmission of powerful, human-initiated signals foundered on a basic disagreement that is mirrored in today's METI debate.
Seventeen years ago, the International Academy of Astronautics presented a proposal to the United Nations for an international decision-making process for sending such communications. The U.N. noted the report and filed it.
Plans to send powerful targeted messages to nearby solar systems have brought this issue back to our attention. The underlying issue has not changed. As renowned Chinese science fiction writer Cixin Liu wrote, "I've always felt that extraterrestrial contact will be the greatest source of uncertainty for humanity's future." Let's address that issue as rationally as we can.
Gregory Benford, astrophysicist and science fiction author
James Benford, radio astronomer
David Brin, astrophysicist and science fiction author
Catharine A. Conley, NASA Planetary Protection Officer
John Gertz, former chairman of the SETI Institute
Peter W. Madlem, former board member of the SETI Institute
Michael Michaud, former diplomat, author
John Rummel, former Director, NASA Planetary Protection Office
Dan Werthimer, radio astronomer