Some people tell me that the dangers posed by an asteroid or comet impact on Earth are over-publicized. Surely whatever object hits us would land some place harmless, causing nothing but a flurry of news stories. Others remind me that Chelyabinsk was seriously rattled by the explosion of a small asteroid in 2013, an event that could have created appalling damage with a slight deviation in trajectory. My own view is that guessing at the odds doesn't do much for us. I favor a strong research effort into asteroid deflection and risk mitigation strategies.
Normally planetary protection wouldn't be high on the agenda on Centauri Dreams because I focus on deep space issues and our exploration possibilities far from Earth. But asteroid deflection merits our attention because I'm convinced it is one of the drivers for space research. Protecting the planet means learning not only how to deflect potentially risky objects but also how to detect them long before they pose a problem. The two work together in that some impactors could come from far out in the system and need long-term strategies.
Thus I'm interested in learning that Vishnu Reddy of the University of Arizona's Lunar and Planetary Laboratory is working with NASA's Planetary Defense Coordination Office, the federal entity in charge of coordinating efforts to protect Earth from hazardous asteroids, on an observational campaign to test how well our networked resources might respond to a threat. Unlike earlier, similar exercises, this one engages our response to an actual near-Earth asteroid known as 2012 TC4. The Chelyabinsk reference comes in handy here — 2012 TC4 is thought to be roughly the same size as the asteroid that lit up the Chelyabinsk sky in 2013.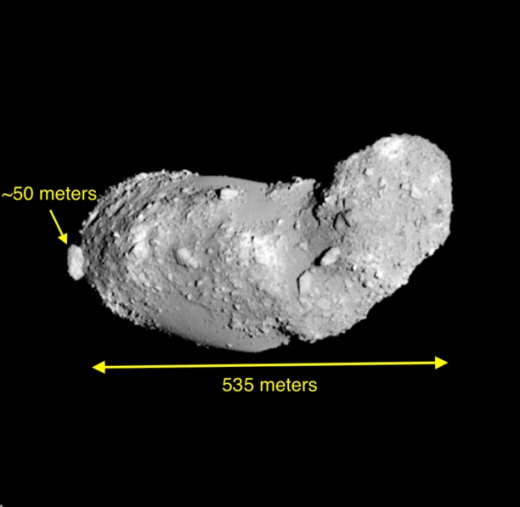 Image: No photos of asteroid 2012 TC4 exist, but this image of Itokawa, another near-Earth asteroid, helps visualize its approximate size: next to Itokawa, which is half a kilometer long, TC4 would appear about the same size as the "bunny tail" feature visible on the left. Credit: JAXA.
2012 TC4 was discovered by the Pan-STARRS 1 telescope on Oct. 5, 2012, at Haleakala Observatory (Maui). It is expected to pass as close as 6800 kilometers from the Earth on October 12 of this year. The idea of the exercise is to test systems involving observations, modeling, prediction and communications on an object that we can actually track.
When it becomes visible to Earth-based telescopes in early August, the asteroid's orbit will need to be 'recovered,' meaning nailing down its parameters. Objects 50 meters across or less (about 12000 known near-Earth objects are larger than this) should disintegrate in the atmosphere, a heartening thought, though the 20-meter Chelyabinsk bolide, exploding high in the atmosphere, still resulted in thousands of injuries. The odds on a 1-kilometer or larger asteroid impacting the Earth are small, but exercises like this one will help test systems that one day might be called into play to evacuate an area where a small impactor might hit (see this interview with Paul Chodas, manager of the Center for Near-Earth Object Studies at JPL).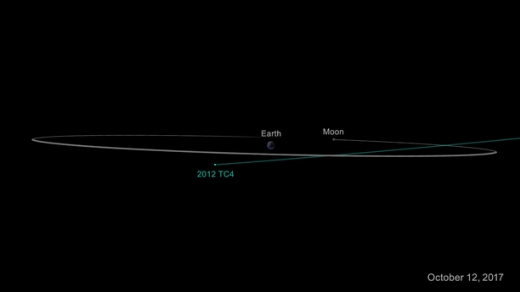 Image: On Oct. 12, 2017, asteroid 2012 TC4 will safely fly past Earth. Even though scientists cannot yet predict exactly how close it will approach, they are certain it will come no closer to Earth than 6,800 kilometers. Credit: NASA/JPL-Caltech.
More than a dozen observatories, universities and laboratories across the globe are involved in the upcoming 2012 TC4 flyby exercise. Let's see how we do at pulling resources together to run an exercise on an actual flyby. Meanwhile, bear in mind that between 80 and 100 tons of various kinds of debris — dust, small asteroid fragments and so on — fall into the atmosphere every day.
Things falling down on us from above are, in other words, inevitable, but we'd like to know about the bigger stuff. Chelyabinsk-class events take place once or twice a century, but exactly when, given an NEO catalog that is incomplete, cannot always be predicted. Exercises like this one should help us tune up our response and suggest areas where we might improve.
Those other drivers for space exploration I mentioned earlier in today's entry? To a large extent, they work in synchrony with asteroid mitigation. Astrobiology is clearly one, a search for the parameters of abiogenesis that dovetails with getting payloads to distant targets. An impact threat from further out in the Solar System than our population of near-Earth asteroids would demand proficiency at deep space propulsion and operations far from home. Add in the essential fact of human curiosity and the will to explore, and our push outward is sure to continue, whether with human crews or robotics, and despite inevitable budgetary constraints.