While the debate over sending messages to nearby stars continues, it's interesting to probe the issue quantitatively, as Jim Benford did on Friday, asking whether recent attempts at METI could be heard at destination. The subject prompts Keith Cooper, now editor at Astrobiology Magazine, to examine ways of reaching consensus on a matter that raises strong opinions whenever it is raised. If these messages are unlikely to be heard, is there a technological window here that we can use to find consensus through continuing research? Keith is well-known to Centauri Dreams readers, having engaged with me in a series of dialogues over the years on various interstellar topics. Look for a new dialogue early in 2018.
By Keith Cooper
On Friday, Jim Benford's brilliant essay showed how the latest METI signal will not even be heard at its target destination, the planet GJ 273b, which is only 12.4 light years away. Whichever side of the debate you fall on, messages that can't be detected at their target are a waste of resources. In light of this, METI activists may want to rethink their strategy.
(As an aside, this highlights why civilisations might be hesitant about transmitting without knowing that there is going to be someone listening; the resources, both in terms of energy and time, that are required to do the job properly are huge and you can imagine that frugal civilisations might not bother, or only do so sporadically.)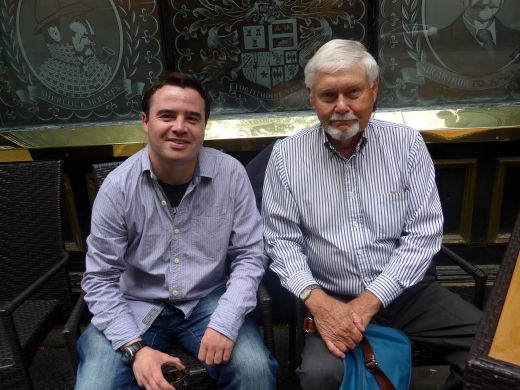 Image: Keith Cooper (left) with Jim Benford at a recent meeting in London.
There's a window of opportunity here for both sides of the argument to come together while METI is effectively curtailed by a lack of access to sufficiently powerful transmitters (which, besides Arecibo and military radar, are thin on the ground). I'm not thinking of spending this time endlessly debating the issues. The SETI Institute's Seth Shostak has suggested that the conclusion of any symposia called to discuss the risks of METI will always be a foregone one against transmitting (which may explain why METI activists are so keen to avoid discussion), because since we have no understanding of how ET will behave, there will always be a risk.
I think he's probably right, but then I have to ask myself, is that the kind of civilisation that I want us to be, forever shackled by fear? I look at some of the names involved in METI International and I am honestly surprised. So many of those listed on their website are smart people whom I admire greatly, people such as Jerome Berkow, Steven Dick, Alan Penny, Paul Davies, George Dvorsky, Chris Impey, James Kasting, Lori Marino and on and on. If so many smart people whose opinion I respect are in favour of deliberately seeking contact, who am I, a mere journalist, to disagree?
You know something? I don't disagree. Neither, I'm willing to bet, do Jim Benford, David Brin or any of the other vocal critics of METI. We don't want to hide from contact – ultimately that's the whole point of doing SETI. The difference comes in that we don't think sending out signals left, right and centre, with no thought put into who we are trying to contact and what we're trying to say, is the responsible way to announce ourselves on the galactic stage.
Scouting the Galaxy
I think there's an alternative way. I will warn you now, it will require patience, but if we are to get to the end of this century in at least as good a shape as when we entered it, then we will need to be patient and implement long-term plans to combat climate change, over-population, poverty and so on. Why should our attempts to make contact, given the vast distances and timescales involved, be an exception?
Our current situation is that we don't know what is out there. So before transmitting, let's perform some reconnaissance. The advent of the Breakthrough Starshot project, which intends to fire laser beams to accelerate thousands of tiny 'StarChip' nano-probes to a fifth of the speed of light towards Alpha Centauri, makes such reconnaissance eminently more probable. If all goes well, the first StarChips could be launched by the middle of this century. In just over 20 years they would reach their destination, but why stop at sending these probes to Alpha Centauri? Travelling at 0.2c, they could reach GJ 273b within 62 years. The probes could survey the system for signs of life or even technology (perhaps in the form of city lights, atmospheric pollution or artificial structures), and report back.
In the intervening years our largest telescopes will be able to perform their own kind of reconnaissance from a distance. The James Webb Space Telescope, the European Extremely Large Telescope and the Thirty Meter Telescope will all be able to perform spectroscopic analysis of the atmospheres of the nearest potentially habitable worlds, searching for biosignatures including gases that are in chemical disequilibrium with their environment, such as oxygen, methane and others. The latter two ground-based telescopes might even be able to directly image these planets. The Square Kilometre Array and the FAST telescope in China will listen intently for SETI signals. We will learn more about our own Solar System, about how the conditions to support life came about on Earth, and whether life exists elsewhere in our Solar System, be it on Mars, Europa or Enceladus. We will come to a much better understanding of life in the Universe and the odds on finding such life elsewhere.
The point is, over the next century we will be in a far better position to say whether there is life out there in any nearby planetary systems. In fact, I'll go one step further and make a bet that, if life exists on a planet anywhere within 50 light years of here, we will have found it by 2100. Our probes will be sent to investigate surreptitiously, likely too small to be detected by any civilisation out there. Once we've learned of them, and about them, we will be in a far better position to deliberately open a channel of communication with them, with first contact performed by trained diplomats and scientists. This would be in stark contrast to secretly sending out a message and not making that information public for a month. A group that claims to speak for Earth but which does so in secret isn't speaking for anybody but themselves.
Patience in good measure
As I write this, I'm reminded of Milan Ćirković's hypothesis of energy-optimised 'city states' in his 'Against the Empire' paper, wherein civilisations recognise the huge expense of transmitting signals or launching crewed interstellar spaceflight, and instead send out scouts in the form of robotic probes to explore the Galaxy and seek out life. Indeed, interstellar probes have long been part of the fabric of SETI, going back to Ronald Bracewell in the 1960s and the novels of Fred Saberhagen (although his berserkers aren't quite what I have in mind!).
If, after launching our probes and scrutinising nearby planets with our telescopes, we find intelligent life, and we get an idea of what they're about, then we can consider opening hailing frequencies with them. This approach lacks the immediate satisfaction of sending messages now, and quite possibly none of us will be alive when we find such life, but in the long-term – and make no mistake, contact with another civilisation will have repercussions, good or bad, that run into the long term – it seems the most sensible way to go about making contact.
It does require patience and perseverance to see the plan through to its end, but METI activists often deny that they are being impatient when they rush to beam their messages out into space. Seeing as their messages are not currently powerful enough to be heard by anyone anyway, this is their chance to prove that they are not acting out of impatience by joining a century-long plan to make contact by initially performing the required reconnaissance of our neighbourhood, taking the time to learn a little more about what's out there. While we are performing our reconnaissance, we will be able to take the time to really figure out how we want to communicate in a responsible fashion and prepare society for the potential of contact.
The SETI 2020 report called for cultural maturity before we make any big decisions about contact. By finding the patience to maintain a century-long project of exploration of nearby planetary systems, maybe we can reach the required level of maturity.
So I'm throwing down the gauntlet. To those whose aim is to find life in the Universe, I say, come together and develop a long-term plan towards achieving this aim. To the METI activists, I say, hold off on your wasteful transmissions and join us. It may take a while; we may not be alive to see its completion, but once our project has found intelligent life, once we've performed surveillance to understand that life better and the associated risks of contact, then let's transmit together, as a united world. The risks will be far less and the potential benefits or working together far, far greater.