The behavior of distant galaxies may tell us much about our own Milky Way's evolution, as well as alerting us to the differing outcomes possible as galaxies mature. This morning we look at a galaxy labeled eMACSJ1341-QG-1, one that puts on display the phenomenon of gravitational lensing. We may one day use the distortion of spacetime caused by massive objects much closer to home to study nearby stars and their planets, assuming we can learn to exploit the natural gravitational lensing effect that occurs at 550 AU from the Sun.
But back to the galactic perspective. Lined up with a massive galaxy cluster called eMACSJ1341.9-2441, the light from the much more distant galaxy is magnified by 30 times as the gravity of the intervening cluster — its presumed dark matter, gas and thousands of individual galaxies — distorts spacetime. Gravitational lensing was confirmed during a solar eclipse in 1919, when background stars were found to be offset in precisely the way Albert Einstein had predicted. Astronomers now rely on such lensing to produce information about objects that would otherwise be all but invisible.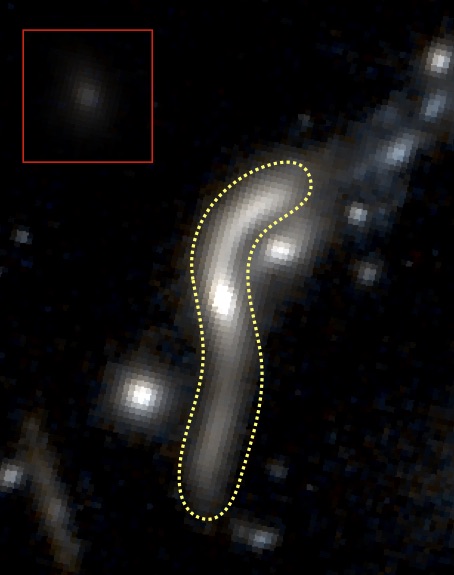 Image: The quiescent galaxy eMACSJ1341-QG-1 as seen by the Hubble Space Telescope. The yellow dotted line traces the boundaries of the galaxy's gravitationally lensed image. The inset on the upper left shows what eMACSJ1341-QG-1 would look like if we observed it directly, without the cluster lens. The dramatic amplification and distortion caused by the intervening, massive galaxy cluster (of which only a few galaxies are seen in this zoomed-in view) is apparent. Credit: Harald Ebeling, UH IfA.
Discovery of the quiescent galaxy, identified as a gravitationally lensed triple image, was confirmed by the ESO/X-Shooter spectrograph, mounted at the European Southern Observatory's Very Large Telescope site at Cerro Paranal in Chile. Harald Ebeling (University of Hawaii, Honolulu), lead author of the paper on this work, describes the effort, which has now produced a new record for magnification of this type of galaxy:
"We specialize in finding extremely massive clusters that act as natural telescopes and have already discovered many exciting cases of gravitational lensing. This discovery stands out though, as the huge magnification provided by eMACSJ1341 allows us to study in detail a very rare type of galaxy."
Quiescent galaxies — those in which star formation has all but ceased — represent the endpoint of galaxy evolution, which makes this one somewhat unusual. Objects at this redshift should be young enough not to have used up their gas supply. Hence learning why eMACSJ1341-QG-1 has stopped forming stars is a significant quest.
Working with data from the Hubble Space Telescope, Ebeling and colleagues now continue the study through HST imaging as well as ground-based instruments, and further analysis of the lens model that allows them to remove distortion from the magnified image. From the paper;
Although ground-based spectroscopy with facilities in Chile and on Maunakea will allow the characterization of the stellar populations of eMACSJ1341-QG-1, an analysis of its spatial profile and any radial dependencies of its properties relies on the availability of resolved colors and a robust lens model that allows the reconstruction of the galaxy in the source plane. HST imaging in multiple filters will be critically important to achieve either of these goals.
There is much to learn:
While it is widely accepted that already at z∼1.5 a majority of the most massive galaxies had evolved stellar populations and form few stars, the observational evidence behind this picture is not conclusive, in particular regarding the puzzlingly compact size of some of these galaxies, the quenching mechanism, and the impact of dust on the apparent prominence of the old stellar population.
Centauri Dreams' take: Fascinating in its own right, gravitational lensing studies like these remind us that when we do become capable of sending spacecraft to 550 AU and beyond to explore the uses of the Sun's lens to study possible mission targets, we're faced with huge questions of how to remove the massive distortion of the image, untangling it to produce workable information. The rapidly advancing field of deep-sky gravitational lensing should produce numerous insights into how we approach lensed images from future space missions.
Let me also note this: Gravitational focus lensing in the context of space missions was discussed by Geoff Landis (NASA GRC) as well as Slava Turyshev (JPL) at the most recent Tennessee Valley Interstellar Workshop. You can see the video of both presentations here.
The paper is Ebeling et al., "Thirty-fold: Extreme Gravitational Lensing of a Quiescent Galaxy at z = 1.6," Astrophysical Journal Letters Vol. 852, No. 1 (abstract / preprint).