These days we take in data at such a clip that a mission like New Horizons will generate papers for decades. The same holds true for our burgeoning databanks of astronomical objects observed from the ground. So it only makes sense that we begin to recover older datasets, in this case the abundant imagery — photographs, radio maps, telescopic observations — collected in the pre-digital archives of scientific journals. The citizen science project goes by the name Astronomy Rewind, and it's actively resurrecting older images for comparison with new data.
Launched in 2017, Astronomy Rewind originally classified scans in three categories: 1) single images with coordinate axes; 2) multiple images with such axes; and 3) single or multiple images without such axes. On October 9, the next phase of the project launched, in which visitors to the site can use available coordinate axes or other arrows, captions and rulers to work out the precise location of each image on the sky and fix its angular scale and orientation.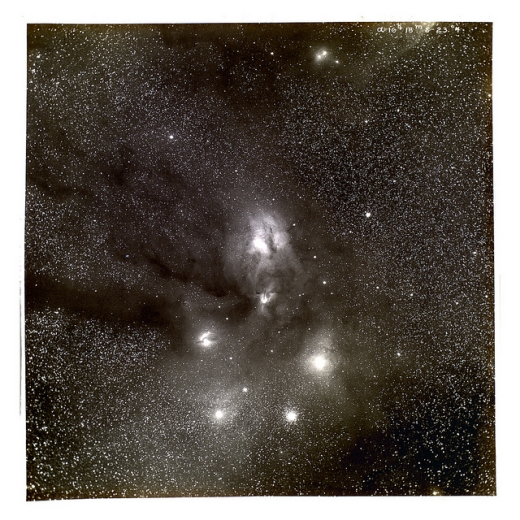 Image: Astronomer E. E. Barnard photographed the Rho Ophiuchi nebula near the border of Scorpius in 1905 through a 10-inch refractor. When he published the image in the Astrophysical Journal five years later, he discussed the possibility — then fiercely debated — that bright nebulae are partially transparent and dark nebulae are opaque, hiding material farther away. Other researchers argued that dark nebulae are simply regions where stars and gas are absent. Credit: American Astronomical Society, NASA/SAO Astrophysics Data System, and WorldWide Telescope.
We have over a century of images to work with, some 30,000 at present drawn from American Astronomical Society journals the Astronomical Journal (AJ), Astrophysical Journal (ApJ), ApJ Letters, and the ApJ Supplement Series. These images were provided through the Astrophysics Data System (ADS), which draws on NASA funding and provides bibliographical and archival services at the Smithsonian Astrophysical Laboratory (SAO), which is part of the Harvard-Smithsonian Center for Astrophysics.
What's next for the initial round of imagery is inclusion into the WorldWide Telescope. Originally a Microsoft project, the WWT is now managed by the American Astronomical Society, and serves as what the AAS calls a 'virtual sky explorer that doubles as a portal to the peer-reviewed literature and to archival images from the world's major observatories.' 10,000 images (those with coordinate axes) are to be placed within the WWT within a few months, while volunteers proceed to identify where the remaining 20,000 images belong on the sky.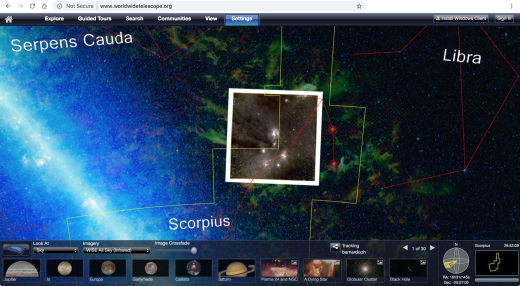 Image: Barnard's photo has been placed on the sky in its proper position and orientation and is displayed in WorldWide Telescope (WWT) superimposed on a false-color background image from NASA's Wide-field Infrared Survey Explorer (WISE). Credit: American Astronomical Society, NASA/SAO Astrophysics Data System, and WorldWide Telescope.
But these images are not the only ones arriving for inclusion into the growing database. Results from the related ADS All Sky Survey are also going into the WorldWide Telescope, along with a European image display tool called Aladin, developed at the Centre de Données astronomiques (CDS), Strasbourg Observatory, France. The software highlights the effectiveness of the concept, for with Aladin, users will be able to click on any image that originally appeared in one of the AAS journals and call up the corresponding research paper. Alyssa Goodman, one of the project's leaders at the Harvard-Smithsonian Center for Astrophysics (CfA), comments:
"Without Astronomy Rewind, astronomers would be unlikely to make the effort to extract an image from an old article, place it on the sky, and find related images at other wavelengths for comparison. Once our revivified pictures are incorporated into WorldWide Telescope, which includes images and catalogs from across the electromagnetic spectrum, contextualization will take only seconds, making it easy to compare observations from a century ago with modern data to see how celestial objects have moved or changed."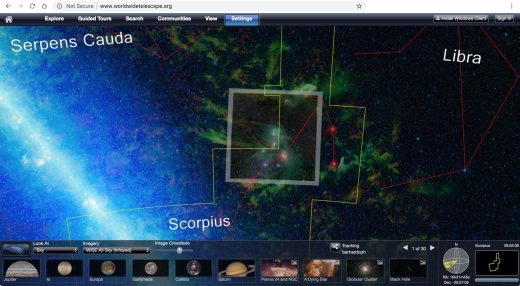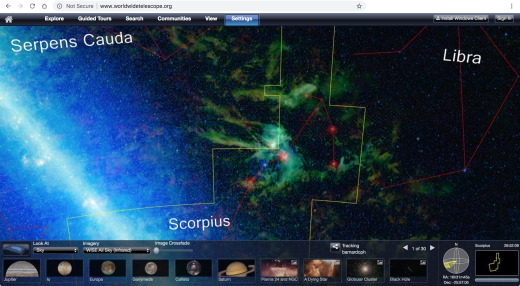 Image: In these two figures, Barnard's photo has been made partially and fully transparent, respectively, to reveal it in context. In the visible-light photo, gas glows brightly while dust appears in silhouette. In infrared light, as seen by WISE, dust glows brightly where in visible light there was nothing but blackness. Barnard was right! Credit: American Astronomical Society, NASA/SAO Astrophysics Data System, and WorldWide Telescope. Credit: AAS.
As Centauri Dreams readers know, I've often enthused about the potential for citizen science projects both in terms of their effectiveness at identifying and cataloging astronomical phenomena as well as the opportunity they present for non-professionals to contribute to fields ranging from deep sky objects to exoplanets and our own Solar System. Astronomy Rewind is clearly keeping the momentum of such efforts going. As it moves into a more challenging phase of confirming the position, scale, and orientation of decades-old astronomical images, the project will offer help features run by astronomy graduate students.
Thus we revive work going back to the 19th Century and link to the work discussing it, with all journal images contextualized on the sky. That's quite a goal, and it invariably reminds me of the debate over Boyajian's Star (KIC 8462852, more familiarly known as Tabby's Star), in which the question of long-term dimming was addressed by a study of 500,000 photographs in the archives of Harvard College Observatory, over a century's worth of images being digitized through the Digital Access to a Sky Century@Harvard (DASCH) project.
Projects like these are massive in scope and their efforts constitute a heartening work in progress. Ultimately, every astronomical image available in any scientific journal or academic or observatory collection will be catalogued, giving us a way to study the sky over periods of time that are lengthy in comparison to a human lifetime but tiny at the astronomical scale. Nonetheless, KIC 8462852 showed us how an unexpected need to examine old data could propel a scientific debate and flesh out information about a newly discovered mystery.