December 3 goes down as the day when OSIRIS-REx arrived at the asteroid called Bennu. The spacecraft, whose acronym untangles as Origins, Spectral Interpretation, Resource Identification, Security-Regolith Explorer, has been performing braking maneuvers to slow for the approach since October. This has been a long and delicate operation, with arrival marked by a maneuver on Monday to set up the first flyover of the object's north pole.
Even so, spacecraft and asteroid are flying together while not yet in an orbital relationship. That won't happen until December 31, when the mission's navigation team will use the preliminary survey they're building now to initiate the orbit. Bear in mind that we are dealing with an object less than 500 meters across (about 1,600 feet), so one of Bennu's distinctions will be that it is to become the smallest object ever orbited by a spacecraft. Now the learning period intensifies.
"During our approach toward Bennu, we have taken observations at much higher resolution than were available from Earth," said Rich Burns, the project manager of OSIRIS-REx at NASA's Goddard Space Flight Center in Greenbelt, Maryland. "These observations have revealed an asteroid that is both consistent with our expectations from ground-based measurements and an exceptionally interesting small world. Now we embark on gaining experience flying our spacecraft about such a small body."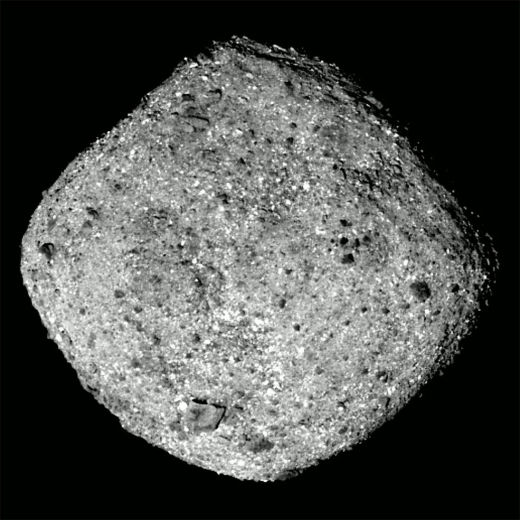 Image: Bennu in an image taken by the OSIRIS-REx spacecraft from a distance of around 80 kilometers (50 miles). Credit: NASA/Goddard/University of Arizona.
As of this morning, OSIRIS-REx is about 19 kilometers (11.8 miles) from Bennu's surface, with flyovers of the asteroid taking it to within 7 kilometers (4 miles) as the preliminary survey operations intensify. As this is a sample return mission, an early goal is to help identify potential sites for sampling, while tightening up estimates of Bennu's mass and spin rate. The sampling goal is to collect 60 grams or more of regolith and bring the sample back to Earth in 2023.
So far, another safe arrival, and a satisfying one following the InSight touchdown on Mars. OSIRIS-REx's initiation of orbital operations at the end of this month coincides with the flyby of Ultima Thule by New Horizons, taking us deep into the Kuiper Belt. We'll be unpacking and analyzing New Horizons data for months and years while OSIRIS-REx spends the next year mapping its own target (and let's not forget Hayabusa2, now surveying asteroid 162173 Ryugu, with its own sample return plans). The early reconnaissance of the Solar System continues.
Indeed we have. Thanks to my world-class team for all your hard work to get to this point. Arrival is just the beginning. #WelcomeToBennu https://t.co/4fb6KxgCx0

— NASA's OSIRIS-REx (@OSIRISREx) December 3, 2018