Breakthrough Listen has just announced a new optical SETI effort in partnership with the VERITAS Collaboration. The news took me by surprise, for VERITAS (Very Energetic Radiation Imaging Telescope Array System) generally deals in high-energy astrophysics, with a focus on gamma rays, which signal their presence through flashes of Cherenkov radiation when they strike the Earth's atmosphere. Here, the array is being used to look for technosignatures, as Andrew Siemion (UC- Berkeley SETI Research Center) explains:
"Breakthrough Listen is already the most powerful, comprehensive, and intensive search yet undertaken for signs of intelligent life beyond Earth. Now, with the addition of VERITAS, we're sensitive to an important new class of signals: fast optical pulses. Optical communication has already been used by NASA to transmit high definition images to Earth from the Moon, so there's reason to believe that an advanced civilization might use a scaled-up version of this technology for interstellar communication."

Image: View of the Fred Lawrence Whipple Observatory basecamp and the VERITAS array. Credit: VERITAS.
So the search for faint optical flashes that could signal the presence of an extraterrestrial civilization deepens, complementing the optical SETI work currently underway at Breakthrough Listen as well as its ongoing survey at radio frequencies. VERITAS brings four 12-meter telescopes located at the basecamp of the Fred Lawrence Whipple Observatory on Mount Hopkins in Arizona into the mix. This is quite an exoplanet venue: The observatory has facilities at different elevations, including exoplanet arrays for HAT (Hungarian-made Automated Telescope), the MEarth project and MINERVA, all three of these robotic.
In the Breakthrough Listen effort, VERITAS will be looking for pulsed optical beacons with durations as short as several nanoseconds, for at timescales like these, an artificial beacon could outshine any stars located in the same region of sky. All four telescopes will be used simultaneously, which should assist the effort in screening out false positive detections.
Although I hadn't realized it until looking further into VERITAS, the array has already seen use in a search of Boyajian's Star for such pulses (see Abeysekara et al., "A Search for Brief Optical Flashes Associated with the SETI Target KIC 8462852," abstract here). You'll recall that this star has received intense scrutiny because of its unusual pattern of dimming, which did not correspond to planetary transits and raised questions about the source of the lightcurve variations.
Now VERITAS goes to work on stars not already found on Breakthrough Listen's primary star list. The numbers are striking: Breakthrough Listen calculates that if a laser delivering 500 terawatts in a pulse lasting a few nanoseconds were located at the same distance as Boyajian's Star (an F3V-class object in Cygnus approximately 1470 light years away) and pointed in our direction, VERITAS would be able to detect it.
Most stars in the Breakthrough Listen target list, however, are considerably closer. Hence the VERITAS search will be sensitive to pulses a factor 100 – 10,000 times fainter still. Thus an array built with the purpose of studying very-high-energy gamma rays proves adaptable to a search for technosignatures, with UC-Santa Cruz physicist David Williams, one of the effort's leaders, saying "It is impressive how well-suited the VERITAS telescopes are for this project." Williams will work in collaboration with Jamie Holder (University of Delaware) and Andrew Siemion's Breakthrough Listen team at UC-Berkeley's SETI Research Center (BSRC).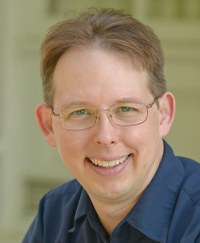 While we're on the topic of SETI, let me also call your attention to a new resource that Penn State's Jason Wright and Alan Reyes have created. Go to the NASA ADS site and include in your search terms 'bibgroup:SETI'. I just searched, for example, using 'author:"maccone" bibgroup:SETI' and came up with 56 hits. SETI has been short on bibliographical resources, so this is promising stuff. You'll need to familiarize yourself with the search syntax, but it's not at all difficult, and will reward those looking to firm up a citation or check on the status of a particular scientist's work. Wright and Reyes have submitted a paper on the bibliography to JBIS. For more, see Towards a Comprehensive Bibliography for SETI.
Image: Penn State's Jason Wright. Credit: PSU.