We're getting a closer look at Saturn's moon Hyperion, the result of data analysis following Cassini's flyby in September of 2005. Using near-infrared and ultraviolet spectroscopy, researchers have been able to analyze the moon's surface composition, with results suggestive of water and carbon dioxide ices as well as an analysis of dark material indicating hydrocarbons. That's a mix of materials not unlike what we've found in comets and probably similar to what we'll detect in Kuiper Belt objects.
Here's Dale Cruikshank (NASA Ames), lead author on the paper:
"Of special interest is the presence on Hyperion of hydrocarbons — combinations of carbon and hydrogen atoms that are found in comets, meteorites, and the dust in our galaxy. These molecules, when embedded in ice and exposed to ultraviolet light, form new molecules of biological significance. This doesn't mean that we have found life, but it is a further indication that the basic chemistry needed for life is widespread in the universe."
We already knew about frozen water on Hyperion, based on earlier ground-based observations, but Cassini also found solid carbon dioxide mixed with ordinary ice that is chemically attached to other molecules. "We think that ordinary carbon dioxide will evaporate from Saturn's moons over long periods of time," adds Cruikshank, "but it appears to be much more stable when it is attached to other molecules."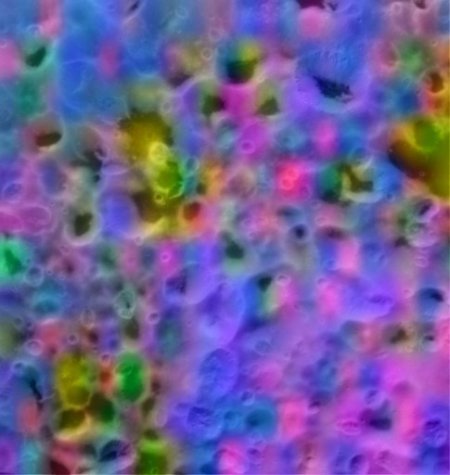 Image: This is a color map of the composition of a portion of Saturn's moon Hyperion's surface about 75 kilometers (45 miles) on a side. In this map, blue shows the maximum exposure of frozen water, red denotes carbon dioxide ice ("dry ice"), magenta indicates regions of water plus carbon dioxide, yellow is a mix of carbon dioxide and an unidentified material. This map was made with data from the Visual and Infrared Mapping Spectrometer aboard the Cassini spacecraft during its flyby of Hyperion in September 2005. Credit: NASA/JPL/University of Arizona/Ames.
More on Hyperion's hydrocarbons in this news release. Meanwhile, the same issue of Nature contains results from Cassini imaging and radio data collecting during the same flyby. The moon's sponge-like appearance is attributed to extremely low density. Hyperion turns out to be about half as dense as water. Using the tiny deflection in Cassini's orbit caused by the flyby, Italian scientists were able to estimate the moon's mass. This combined with volume data collected by imaging provided density figures.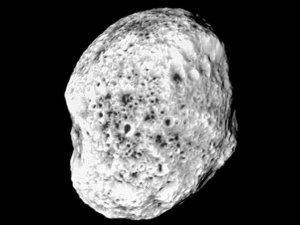 The porous moon tends to compress under the impact of incoming debris, but what material is ejected from such craters probably doesn't fall back to the surface due to Hyperion's low gravity. That gives craters there a crisp, well-defined look that sets them apart from those on denser worlds.
Image: The odd, sponge-like surface of Hyperion. Note the dark centers in some craters. Credit: Cassini Imaging Team, SSI, JPL, ESA, NASA.
The papers are Cruikshank et al., "Surface composition of Hyperion," Nature 448 (5 July 2007), pp. 54-56 (abstract) and Thomas et al., "Hyperion's sponge-like appearance," Nature 448 (5 July 2007), pp. 50-56 (abstract).