We've found our share of unusual planets in the short time since actual observations could be made. A decade ago, it would have been hard to come up with anything more unexpected that a 'hot Jupiter,' orbiting so close to its parent star that its orbital period is measured in scant days. Add in 'super Earths' around dim red dwarfs and pulsar planets (actually the first type of exoplanets to be discovered) like those around the pulsar PSR 1257+12, and you have a bestiary of odd objects in the making.
And now an outburst of gamma and X rays from the direction of the galactic center, one first detected with the Swift satellite's Burst Alert Telescope, gives promise of yet another kind of object. Pulsing in X rays 182.07 times per second, the source is clearly a 'millisecond' pulsar, a neutron star spinning at fantastic rates. Precise studies of the X-ray timing data have revealed the existence of a low-mass companion with a minimum mass of seven Jupiters, but there is wide play in that estimate because of our lack of information about the system's orbital inclination.
A pulsar planet? Evidently not. The formation scenario goes like this: The original system would have consisted of a massive star and a smaller one not much larger than our own Sun. When the larger star exploded as a supernova, a neutron star was left behind. The second star, moving toward red giant stage, caused the two objects to become embedded in what was now an extended stellar envelope. That would have ejected the envelope itself while drawing the two stars nearer to each other.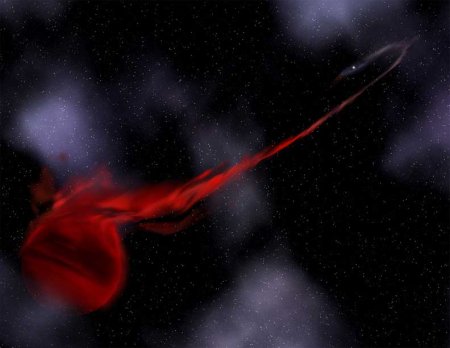 Image: In this artist depiction of the SWIFT J1756.9-2508 system, the foreground object is the planet-mass object. The pulsar, located at the upper right, is tidally distorting the companion into a teardrop-shaped object, and ripping gas from it. This material flows in a stream toward the pulsar and forms a disk around it. Eventually, enough gas builds up in the disk to produce an outburst bright enough to make the system visible from Earth. Credit: Aurore Simonnet/Sonoma State University.
So we're looking not at a planet, despite its size, but the remains of a companion star, says Christopher Deloye (Northwestern University):
"Despite its extremely low mass, the companion isn't considered a planet because of its formation. It's essentially a white dwarf that has been whittled down to a planetary mass."
And one that's been through a hell of a beating. The cause of the eruption that called this system to our attention may be siphoning of gas from the white dwarf survivor. Flowing into a disk around the neutron star, the gas could trigger the occasional outburst. Because the object, known as SWIFT J1756.9, has never been known to erupt before, all bets are off as to how frequent an occurrence such events may be.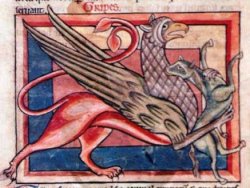 Centauri Dreams' note: Those bestiaries I mentioned earlier were wildly popular in the European Middle Ages, presenting (often in beautifully illuminated manuscripts) stories about various plants and animals, some of them mythic, as seen through the lens of current science and religion. Today we assemble collections of astronomical information that put the wildest imaginings of medieval travelers to shame. Each new planetary discovery (and, as we'll see tomorrow, each new analysis of existing planetary data) sketches places that jog the imagination, and may serve, as did their medieval counterparts, to invigorate not only science but literature and art.
Image: The fabulous, mythical griffin seizing another animal for its dinner. Griffins, unicorns and other such creatures fired the medieval imagination. Will our growing catalog of extrasolar systems have the same effect upon a jaded public? Source: The Harley Bestiary (Harley MS 4751), an English manuscript ca. 1230-40 now preserved in the British Museum.
The paper on this new pulsar work is Krimm et al., "Discovery of the accretion-powered millisecond pulsar SWIFT J1756.9-2508 with a low-mass companion," accepted for publication in Astrophysical Journal Letters (abstract).