Powering up a spacecraft is a lot easier to manage in the Sun-rich environment inside the orbit of Mars than it is out past the orbit of Jupiter. Solar panels provide plenty of power for a satellite in near-Earth orbit, for example, but moving into the outer system invokes the need for RTGs — radioisotope thermoelectric generators — powered by radioactive decay. If you read through the specs on the FOCAL mission design presented here last Friday, you saw that this attempt to reach the Sun's gravitational lens would demand 20 RTGs, and thus requires resumed production of plutonium-238.
What's happened is that US production of 238Pu was halted as far back as 1988, leaving us with stockpiles that should be sufficient for missions in the pipeline through the end of this decade. That's the view of Leonard Dudzinski, NASA's Radioisotope Thermoelectric Generator program executive, who was speaking at the opening session of the 43rd Lunar and Planetary Science and the Nuclear and Emerging Technologies for Space 2012 conferences. The two conferences were held in conjunction with each other in Texas from March 19 to 23.
There have been negotiations between the US and Russia to buy plutonium from Moscow, but according to Dudzinski. quoted in a release from Aviation Week Aerospace Daily & Defense Report, the talks have stalled and, in any case, Russia's own supplies of plutonium are rapidly dwindling.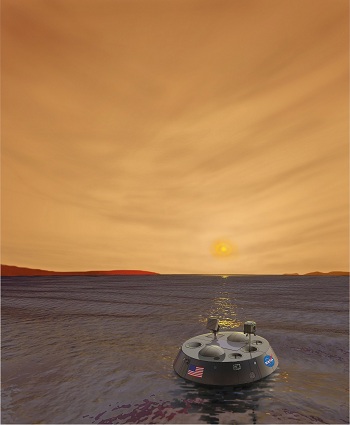 Thus it's good to hear that NASA and the Department of Energy are poised to fund and restart the production of plutonium-238 within six to seven years — NASA won congressional approval to spend $10 million during 2012 on the restart and is seeking similar amounts in 2013-14. Meanwhile, the development of the Advanced Stirling Radioisotope Generator (ASRG) continues, the latter possibly to be used on Discovery-class missions like the Titan Mare Explorer (TiME) and Comet Hopper, both of which are being reviewed by NASA for a 2016 launch.
Image: Artist's impression of the Titan Mare Explorer (TiME) capsule. TiME would perform the first direct inspection of an ocean environment beyond Earth by landing in, and floating on, a methane-ethane sea on Saturn's largest moon. Credit: Johns Hopkins University Applied Physics Laboratory/Lockheed Martin.
From the report:
DOE is close to completing a restart assessment that attempts to make the best use of current production facilities to generate 1.5-2 kg (3.3-4.4 lb.) of plutonium-238 annually… In all, NASA counts 28 of the radioactively fueled missions over a half century, requiring a 3-kg average annual production. The Voyager 1 and 2 missions, launched in 1977, remain active as they exit the Solar System.
Of more modern vintage are the Mars Science Laboratory (MSL) and Curiosity rover, along with the New Horizons mission, which is scheduled for a flyby of Pluto/Charon in 2015. The Advanced Stirling Radioisotope Generator (ASRG) has never flown, but it would be useful indeed, increasing the heat-to-power-generation efficiency of plutonium to 30% from the 5-7% allowed by the solid-state RTGs in use on MSL and New Horizons. As the various agencies move to restart plutonium-238 production, a parallel step will be to learn whether ASRG is flight-worthy.
It's worth considering the context in which all this occurs:
The provocative backdrop includes the proposed sharp drop in proposed spending on planetary science in NASA's 2013 budget; an ambitious decadal road map from the National Research Council (NRC) that includes missions to assess the habitability of Jupiter's moon Europa and Saturn's moons Enceladus and Titan; and a three-year-old NRC report that warns U.S. space leadership is imperiled if it does not resume plutonium-238 production.
Missions to the outer system demand RTG power sources, without which the exploration of high-value targets like Titan and Enceladus cannot proceed. We should learn this year whether the TiME mission, which would attempt to land a probe in one of the lakes of Titan, or the Comet Hopper mission to explore a comet from its surface are selected. In any case, a wide range of potential missions remain in the queue, including the fascinating AVIATR, an ambitious concept to fly a heavily instrumented airplane through the thick atmosphere of Titan. I'll be talking more about AVIATR tomorrow as we continue to ponder power generation in deep space.