The Discovery Channel's news site offers a brief story about changing the course of an Earth-threatening asteroid. Specifically, the story focuses on a paper in the November 10 issue of Nature by Edward Lu and Stanley Love that offers a new method of avoiding an impact without even touching the asteroid. Previous options had included docking a spacecraft to the asteroid and applying steady thrust to change its course, but that method seems like a long-shot considering how tricky it is to get a conventional rocket to such an object with fuel to spare for an extended burn.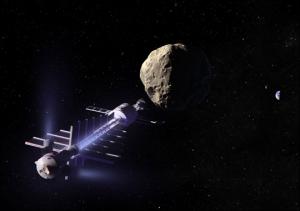 What Lu and Love discuss is a 20-ton spacecraft that would actually use the weak gravitational force between asteroid and ship to effect a change in the asteroid's orbit. In essence, the spacecraft would use nuclear-electric thrusters to maintain a fixed position above the asteroid. If such a mission were flown years in advance of an asteroid impact, the force exerted should be enough to change the expected impact into a not-so-near miss.
Image: A space tractor at work, using nuclear-electric propulsion to establish a fixed position above an asteroid. Credit: Dan Durda/FIAAA/B612 Foundation.
The paper is Lu, Edward and Love, Stanley G., "Gravitational tractor for towing asteroids," Nature Vol. 438, pp. 177-178 (10 November 2005). An abstract can be found here.
Centauri Dreams' take: The use of gravity as a 'towline' is ingenious and just the kind of realistic thinking we need when contemplating a potential mission of this magnitude. Conventional rocketry simply isn't up to the challenge, but nuclear electric propulsion is theoretically sound and capable of maintaining the kind of low levels of thrust needed for asteroid station-keeping.
But another issue is at work here. Such gravitational nudging will only work if we can reach Earth-threatening objects well in advance of potential impacts. That calls for beefed up detection systems for objects that might threaten the planet, and also robust research into advanced propulsion to get us to such objects in a hurry, even if we initially detect them a long way from Earth. Closer to home, a mission like that envisioned by Lu and Love could conceivably be used to deflect the course of asteroid 99942 Apophis, which will make a near miss in 2029 and could threaten the Earth again in 2036.
As always, the B612 Foundation deserves your attention for its work in educating the public about potential asteroid collisions. And be aware that the testimony of B612's Rusty Schweickart and Edward Lu before the Senate Subcommittee on Science, Technology, and Space of the Senate Commerce Committee (7 April 2004) is available along with other papers on the B612 Foundation's news page.